U S NAVY 4th FLEET AT RECIFE - SHIP INDEX PC PCE PG PY PYC
33)PCE 874 PATROL CRAFT ESC
---
---
Photo. www.navsource.org By Harry Kallbach taken 1953.
---
Specifications:
---
Displacement 850 t.
---
Length 184' 6".
---
Beam 33' 1".
---
Draft 9' 5".
---
Speed 15.7 kts.
---
Complement 99.
---
Armament one 3"/50 dual purpose mount, three twin 40mm mounts, five 20mm mounts, two depth charge tracks, four depth charge projectors, one depth charge projector (hedgehog)
---
Propulsion 1,800bhp General Motors 12-567A diesel engines, Falk single reduction gear, two shafts.
---
After shakedown off San Diego, PCE--874 transited the Panama Canal 2 March 1944 and escorted SS Esso Baytown to the port of Aruba, Netherlands West Indies, then proceeded to Recife, Brazil to conduct ASW exercises with Brazilian submarines. This duty was followed with repeated escort voyages to Trinidad and down the South American coast to Bahia and Rio de Janeiro. PCE--874 departed Recife 29 November with a merchant convoy bound for Key West, Fla., where she arrived 11 December.
---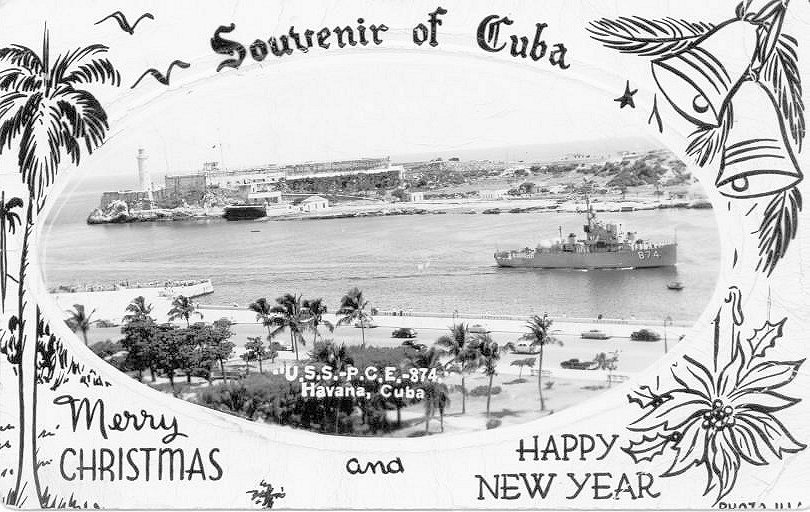 ---
Photo. www.navsource.org By Orson Rathburn Jr. USS PCE 874 in a souvenir card enters Havana Harbor.
---
OTHER ARTICLES YOU MAY FIND SIMILAR