U S NAVY 4th FLEET AT RECIFE - SHIP INDEX PC PCE PG PY PYC
31)PCE 845 PATROL CRAFT ESC
---
---
Photo. www.navsource.org By Tom Kermen
---
Specifications:
---
Displacement 850 t
---
Length 184' 6"
---
Beam 33' 1"
---
Draft 9' 5"
---
Speed 15.7 kts.
---
Complement 99.
---
Armament one 3"/50 dual purpose mount, three twin 40mm mounts, five 20mm mounts, two depth charge tracks, four depth charge projectors, one depth charge projector (hedgehog)
---
Propulsion 1,800bhp General Motors 12-567A diesel engines, Falk single reduction gear, two shafts.
---
Following shakedown, PCE--845 departed Miami, Fla., on 18 April 1944, bound for Port-of-Spain, Trinidad, British West Indies. The patrol escort operated with Admiral Jonas Ingram 4th Fleet, escorting coastal convoys between Port-of-Spain and Brazilian ports such as Recife, Bahia, Belem, and Rio de Janeiro until December. Departing Trinidad on the 7th, PCE--845 shaped a course for the Florida keys and a stint of training operations before departing Key West on 21 January 1945 and heading for the Pacific.
---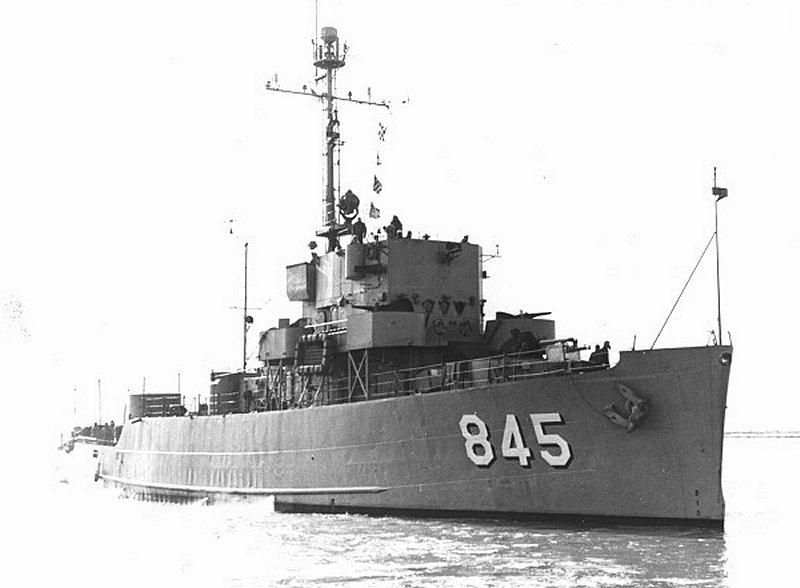 ---
Photo. www.navsource.org By Historical Collections of the Great Lakes.
---
OTHER ARTICLES YOU MAY FIND SIMILAR