Photo. www.navsource.org
Basic repeat Wickes Class, with 35% more fuel capacity to improve endurance problems.
---
Designed radius was 4900 nautical miles at 15 Knots.
---
Launched October 4 1919 and Commissioned March 24 1920.
---
Fate: Borie sank from damage received after ramming U-405 in the North Atlantic November 2 1943.
---
27 of her crew were lost and remain on duty.
---
Displacement 1,215 Tons.
---
Dimensions, 314' 5" (oa) x 31' 8" x 9' 10" (Max)
---
Armament 4 x 4"/50, 1 x 3"/23AA, 12 x 21" tt.
---
Machinery, 26,500 SHP; Geared Turbines, 2 screws.
---
Speed, 35 Knots.
---
Crew 114.
---
Following conversion to a Squadron Leader at San Diego (1932-33) DD 215 BORIE joined Destroyer Squadron 2, Battle Force. She remained in the Pacific on normal destroyer duty until late 1939 and then transited the Panama Canal to join the Neutrality Patrol. She served on the Inshore Patrol, 15th Naval District, in Panama Bay, and later on patrol and escort in the Caribbean and South Atlantic as part of the Fourth Fleet. The destroyer departed the Caribbean 26 June 1943 and on 30 July put to sea as a member of the hunter-killer group built around Card (CVE-11). Borie made four patrols with the Card group.
---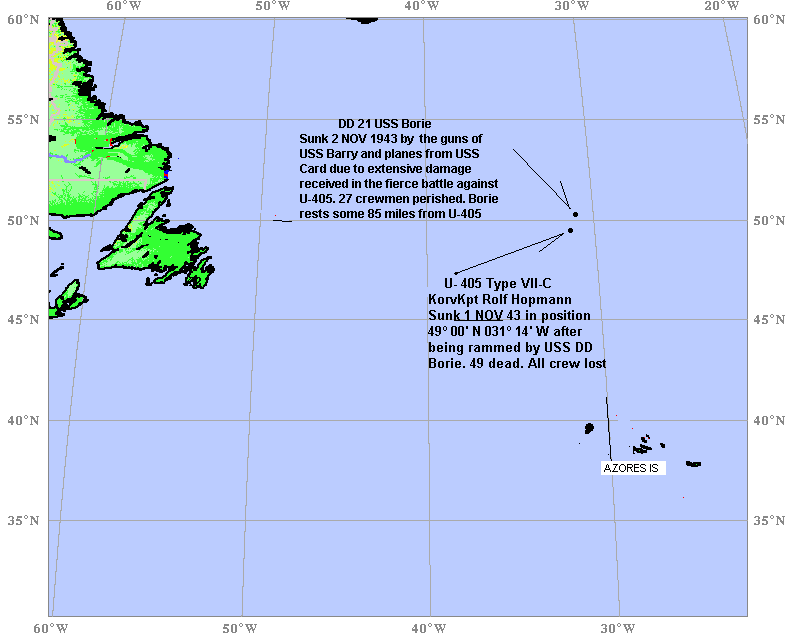 ---
On 1 November 1943, during the last patrol, she rammed and sank the surfaced German submarine U-405 in 49°00' N., 31°14' W. With 27 men lost and too badly damaged by the collision to be towed to port, Borie was sunk by Barry (DD-248) 2 November 1943. Robert Maher, FC1c on that ship, wrote "Sailor's Journey into War",and made perpetual the history and saga of that gallant ship until her sinking on Nov. 1st 1943, after a fierce engagement with U-405 north of Azores islands. DD Borie was assigned several escort patrol duties under the Fourth Fleet along the Brazilian coast.
---
DD Borie and the German submarine became lodged across when the American destroyer dauntlessly dashed for a ramming. In the battle that ensued, men of both ships opened fire at point-blank range. U-405 was defeated and plummeted to 2500 fathom in her final voyage to the darkness, silence and freezing graveyard carrying most of her crew which could not reach the bridge to fight.
---
On the surface the victorious Borie also suffered several losses, 27 of her crew were lost and remain on duty. Damaged beyond repair and unable to even limp to port, she witnessed the desperate efforts of her crew to keep their ship afloat. In her death throes, she had to be sacrificed and was sent to the bottom by the bombs and guns of the ships of her own Navy, but she still went down as a valiant combatant.
---
US Navy carrier Card, rescued from a certain death the survivors of U-256. For them the war was over and no longer a matter of concern. They were treated with dignity and magnanimity by their formal enemy. Robert Maher was assigned a new ship and with the same sense of duty and patriotism was in several missions until the end of hostilies.
---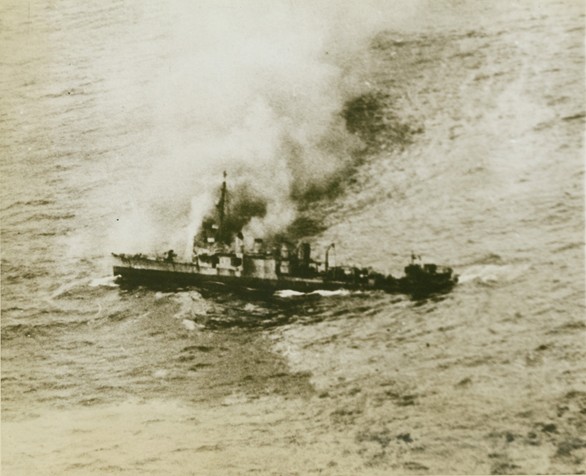 ---
USS Borie seen smoking, after rammed and sank U-405. Photo. www.navsource.org