BRAZILIAN AIR FORCE BASES - FAB AIRBASES
1)BRAZILIAN AIR FORCE BASES
---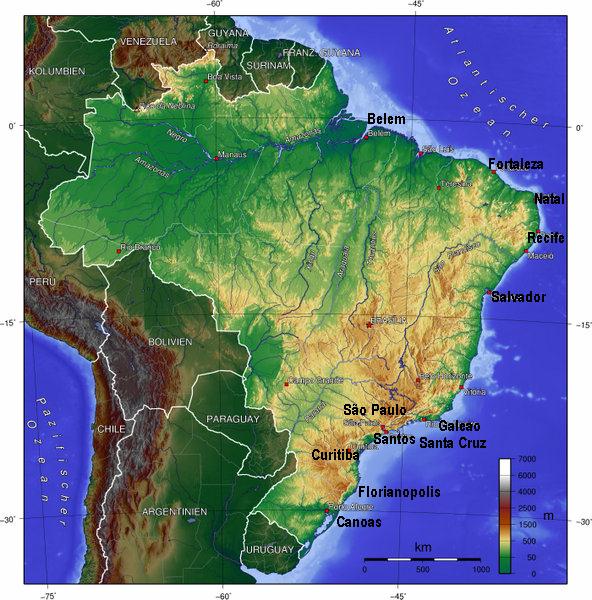 ---
BRAZILIAN AIR FORCE operated 12 airbases during the War. A gigantic effort was made by the Brazilian Government to acquire under lend lease the necessary means to provide an effective defense or our airspace, the vital air coverage of the convoys and the constant air patrols. 414 aircrafts of 22 different types flew in all quadrants of the vast Brazilian coastline. The recently created Air Force performed all tasks demanded by the war including the heroic participation in Italian theater of the legendary 1st Fighter Group which operated 50 P-47. Along with 226 aircrafts operated by the US Navy/US Army Air Force, they formed a strong deterrence force that gave no truce to the stealthy U Boats.
---
DISTRIBUTION OF PATROL SQUADRONS ALONG THE COASTLINE
---
BELEM: 13 AIRCRAFTS
---
FORTALEZA: 21 AIRCRAFTS
---
NATAL: 45 AIRCRAFTS
---
RECIFE: 57 AIRCRAFTS
---
SALVADOR BAHIA: 18 AIRCRAFTS
---
GALEÃO RIO DE JANEIRO: 67 AIRCRAFTS
---
SANTA CRUZ RIO DE JANEIRO: 73 AIRCRAFTS
---
SANTOS: 4 AIRCRAFTS
---
SÃO PAULO: 35 AIRCRAFTS
---
CURITIBA: 14 AIRCRAFTS
---
FLORIANOPOLIS: 5 AIRCRAFTS
---
CANOAS: 62 AIRCRAFTS
---
TOTAL 414 AIRCRAFTS
---
A Marinha na Segunda Guerra Mundial. The Brazilian Navy in World War II.
By Arthur O. Saldanha da Gama & Helio Leoncio Martins
---
OTHER ARTICLES YOU MAY FIND SIMILAR