U S NAVY 4th FLEET AT RECIFE - SHIP INDEX PC PCE PG PY PYC
9)PC 495 PATROL CRAFT
---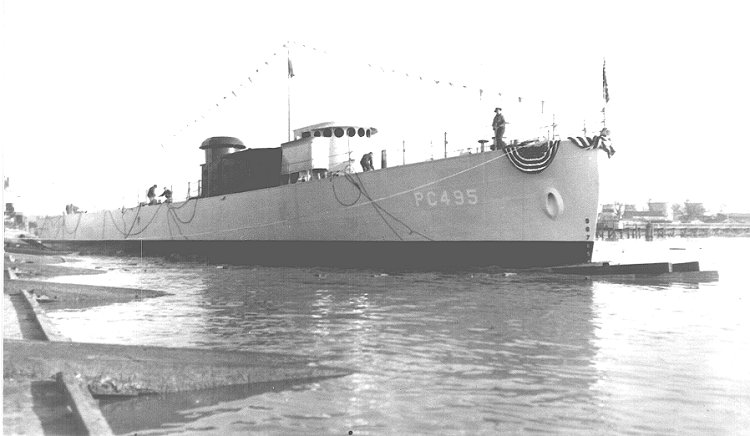 ---
Photo. www.navsource.org PC 495 launched at Dravo Corp. December 1941. By Bob Daly 1181
---
Specifications:
---
Displacement 280 t.(lt), 450 t.(fl)
---
Length 173' 8"
---
Beam 23'
---
Draft 10' 10"
---
Speed 20.2 kts.
---
Complement 65.
---
Armament one 3"/50 dual purpose gun mount, one 40mm gun mount; three 20mm guns, two rocket launchers, four depth charge projectiles, and two depth charge tracks.
---
Propulsion two 2,880bhp Hooven-Owen-Rentschler R-99DA diesel engines (Serial No. 6664 and 6665), Westinghouse single reduction gear, two shafts.
---
US B. P. Newton (on charter to British Tanker Co. Ltd.) was torpedoed by U-510 (Eick) on July 8-1943 while in Convoy TJ 1 from Trinidad for Bahia with a cargo of 14 700 tons aviation fuel as well as 500 barrels of lube oil (for East London and Beira), having departed Trinidad on July 3.
---
Commodore ship was D/S Edvard Grigs. B. P. Newton had station No. 42 in the convoy which consisted of 20 ships, escorted by the American destroyer USS Somers (DD 381), 4 American including PC 495 and a Brazilian escort vessel.
---
On 8/Jul/43, USS PC-495 picks up 66 survivors from the American merchant Eldena that was torpedoed and sunk by the German submarine U-510 about 150 nautical miles north-east of Cayenne, French Guyana in position 05º50'N, 50º20'W.
---

---
Photo www.navsource.org By Robert Hurst. PC 495 seen in Thailand Navy as Sarasin circa 1950.
---
OTHER ARTICLES YOU MAY FIND SIMILAR