U S NAVY 4th FLEET AT RECIFE - SHIP INDEX DE
7)DE 140 J.R.Y. BLAKELY
---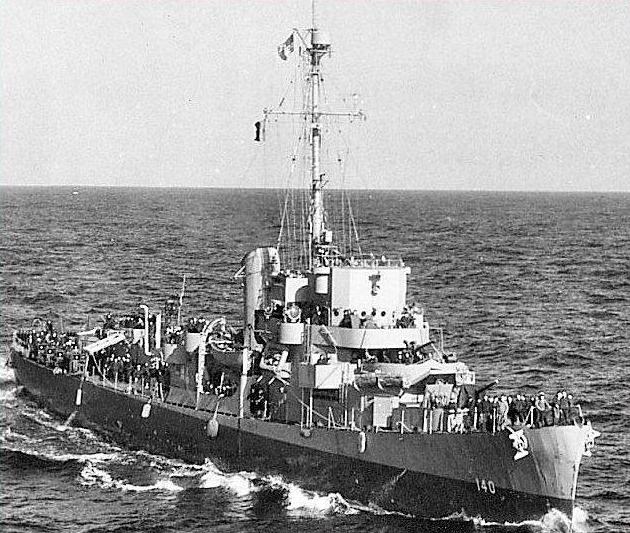 ---
Photo. www.navsource.org By Jerry Church
---
CLASS: EDSALL
---
Type: FMR (geared diesel, Fairbanks-Morse reverse gear drive, 3" guns)
---
Displacement: 1,200 tons (std) 1,590 tons (full)
---
Dimensions: 306' (oa), 300' (wl) x 36' 10" x 12' 3" (max)
---
Armament: 3 x 3"/50 Mk22 (1x3), 1 twin 40mm Mk1 AA, 8 x 20mm Mk 4 AA, 3 x 21" Mk15 TT (3x1),1 Hedgehog Projector Mk10 (144 rounds), 8 Mk6 depth charge projectors, 2 Mk9 depth charge tracks.
---
Machinery: 4 Fairbanks-Morse Mod. 38d81/8 geared diesel engines, 4 diesel-generators, 6000 shp, 2 screws.
---
Speed: 21 knots.
---
Range: 9,100 nm @ 12 knots.
---
Crew: 8 / 201.
---
The veteran ship conducted training operations in Casco Bay, Maine, for several weeks, but departed Norfolk 8 September 1944 with another hunter-killer group, led by Mission Bay (CVE-59). On this cruise, the escort vessel took part in her first successful attack, as the Mission Bay group was sent to break up a suspected meeting between cargo submarine U-1062 and another submarine. Tripoli's(CVE-64) group helped maintain an around the clock search, and on 30 September, Fessenden, [Douglas L.] Howard , and J. R. Y. Blakely began to search out a contact.
---
Fessenden's depth charge attack sank the submarine, U-1062, which was carrying valuable cargo for Germany. Following this success the group moved into the South Atlantic, where, because of the great success of allied antisubmarine tactics, contacts were scarce. After visiting Recife, Bahia and Capetown, J. R. Y. Blakely arrived New York 27 November 1944.
---
OTHER ARTICLES YOU MAY FIND SIMILAR