U S NAVY 4th FLEET AT RECIFE - SHIP INDEX DD
28)DD 440 ERICSSON
---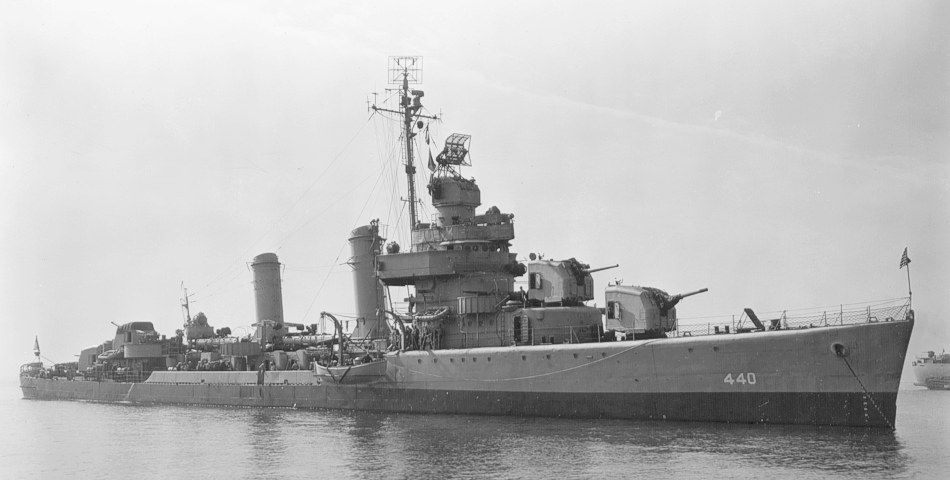 ---
Photo www.navvsource.org By Captain Charles Baldwin USS Ericsson.
---
CLASS - GLEAVES
---
Displacement 2395 Tons (Full)
---
Dimensions, 348' 4"(oa) x 36' 1" x 13' 2" (Max)
---
Launched November 23 1940 and commissioned March 13 1941.
---
Decommissioned March 15 1946.
---
Stricken June 1 1970.
---
Fate: Sunk as target November 17 1970.
---
Armament 4 x 5"/38AA, 6 x 0.5" MG, 10 x 21" tt.(2x5).
---
Machinery, 50,000 SHP; Westinghouse Geared Turbines, 2 screws.
---
Range 6500 NM@ 12 Knots.
---
Crew 208.
---
Speed, 35 Knots.
---
Ericsson escorted a convoy to the Canal Zone in May 1942, and another to Ireland and Scotland in June. Through the remainder of the summer, she escorted convoys along the east coast and in the Caribbean and took part in exercises, and also patrolled out of San Juan, P.R. On 24 October, she sortied from Norfolk for the invasion of North Africa, and took part in the landings on the coast of French Morocco 8 November.
---
For the next week she offered direct fire support to the troops ashore, assisting in knocking out four enemy batteries on a ridge commanding the landing area the first day; she also screened transports lying off the beach. Ericsson returned to Norfolk 26 November.
---
After a brief overhaul at Charleston, Ericsson returned to patrol and escort duty in the Caribbean and to Recife and Trinidad. In May 1943, she made the first of five convoy escort voyages to Casablanca from east coast ports, between which she joined in training, and patrolled the western Atlantic.
---
On 11 February 1944 she arrived at Gibraltar for duty in the Mediterranean, and through the next 6 months, operated primarily to support the troops fighting the bitter campaign for Italy. She escorted convoys and carried passengers between north African and Italian ports, bombarded points near the fiercely contested Anzio area and in the Gulf of Gaeta, patrolled off anchorages and harbors, and joined in exercises preparing for the invasion of southern France.
---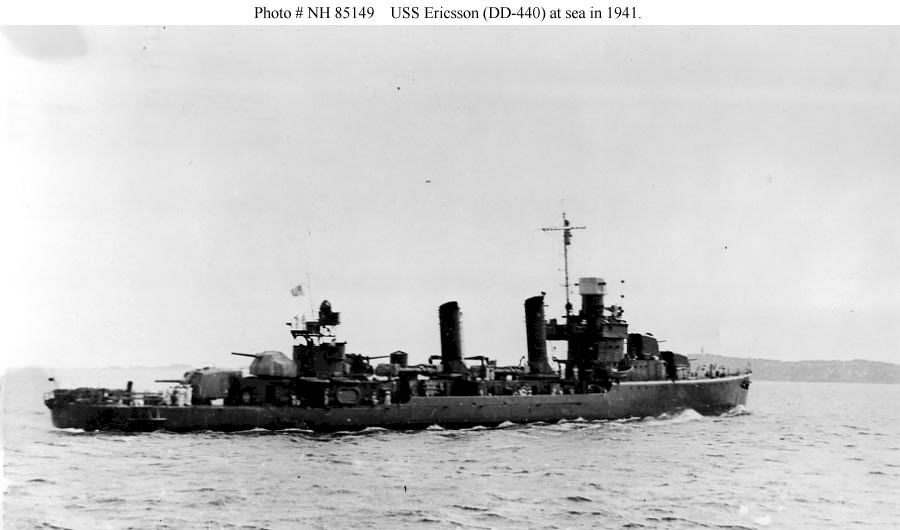 ---
USS Ericson at sea in 1941 in camouflage paint. Photo. www.navsource.org By Robert Hurst.
---
OTHER ARTICLES YOU MAY FIND SIMILAR