U S NAVY 4th FLEET AT RECIFE - SHIP INDEX ATF ATR AV AVD AVP
12)AVP 21 HUMBOLDT
---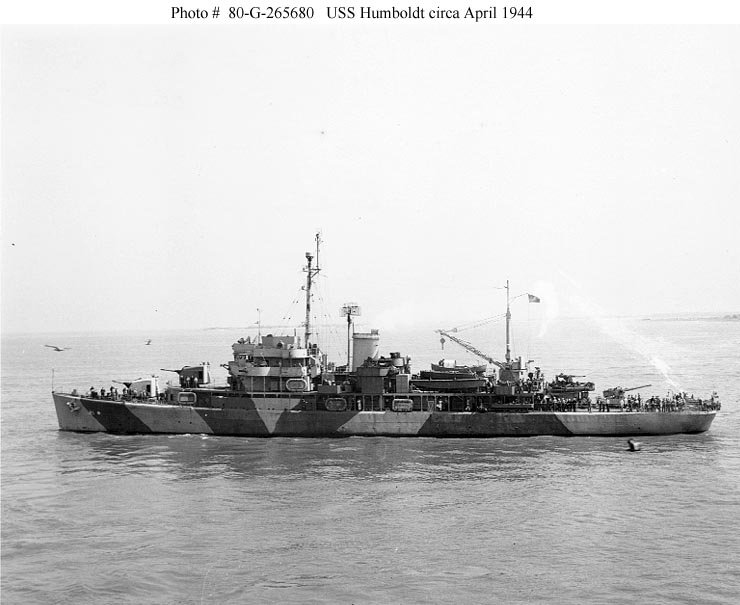 ---
USS AVP 21 Humbolt painted camouflage scheme 32/5D, circa April 1944 in Hampton Roads, from USS San Jacinto US National Archives. US Navy photo now in the collections of the US National Archives By USNHC. Photo. www.navsource.org.
---
---
USS Humboldt AVP 21,painted camouflage scheme 32/5D, off Norfolk, Virginia, 17 November 1944 by an aircraft from the Norfolk Naval Air Station. US Naval Historical Center. Photo. www.navsource.org
---
---
USS Humboldt, painted camouflage scheme 32/5D, tending a PBM seaplane of Fleet Air Wing 16 at Bahia, Brazil, April 1945. From the Collection of Capt. Roy C Smith III, now at the US Naval Historical Center. Photo. www.navsource.org.
---
Specifications:
---
Displacement 1,766 t.(lt) 2,750 t.(fl)
---
Length 311' 8".
---
Beam 41' 1".
---
Draft 13' 6".
---
Speed 18.6 kts.
---
Complement 215.
---
Armament: One single 5"/38 dual purpose gun mount, one quad 40mm AA gun mount, two dual 40mm AA gun mounts, four dual 20mm AA gun mounts.
---
Largest boom capacity: 10 t.
---
Ships Service Generators:Two diesel-drive 100Kw 450V A.C., two diesel-drive 200Kw 50V A.C.
---
Fuel Capacities: Diesel 1,955 Bbls. Gasoline 84,340 Gals.
---
Propulsion: Two General Motors 12-288 diesel engines, Single Fairbanks Morse Main Reduction Gear. Two shafts, 6,080 shp.
---
Following rigorous shakedown training off the Atlantic coast, the new seaplane tender AVP 21 Humboldt, sailed from Norfolk 13 May 1942 to join Rear Admiral Ingram's South Atlantic Force on the Brazilian coast. After stops at San Juan and Trinidad she arrived Recife 5 August and began tending the aircraft of VP-83.
---
During the months that followed, these patrol aircraft, operating with ships of the Brazilian and U.S. Navies, patrolled the vital South Atlantic sea lanes and hunted down Axis submarines. Humboldt supplied and repaired seaplanes and, in addition carried aviation gasoline to outlying air bases on the coast while engaging in antisubmarine patrol herself.
---
While at Natal, Brazil, 28 January 1943, Humboldt was the site of a conference between President Roosevelt returning from the Casablanca Conference, and President Vargas of Brazil. Following this meeting, which helped to achieve even closer cooperation between the naval units of the two countries, the seaplane tender continued to visit isolated ports on the Brazilian coast with supplies establishing a new seaplane base at Aratu in May 1943. Humboldt headed north 1 July 1943, arriving Boston 17 July to take up new duties in the North Atlantic. Sailing 23 August, the ship carried supplies and parts to the Fleet Air Wings in Newfoundland, Iceland, and Britain.
---
She continued this dangerous duty, often sailing unescorted, into the early months of 1944, occasionally sailing to Casablanca as well. She was at Casablanca in late May 1944 and upon hearing of the torpedoing of escort carrier Block Island and destroyer Barr steamed out to help with survivors and to escort Barr to safety. Humboldt was soon underway again, this time to bring an experienced submarine officer to rendezvous with Guadalcanal's hunter-killer group, which had just captured U 505 in an epic encounter 4 June.
---
The seaplane tender continued to bring supplies to squadrons in the Azores and North Africa until 22 March 1945 when she sailed from Norfolk for Brazil. Returning to her original tending duties in the South Atlantic, Humboldt arrived Recife 5 April and remained on duty until the surrender of Germany, after which she sailed for Norfolk 10 June.
---
DANFS. DICTIONARY OF AMERICAN NAVAL FIGHTING SHIPS
---
OTHER ARTICLES YOU MAY FIND SIMILAR