U S NAVY 4th FLEET AT RECIFE - SHIP INDEX ATF ATR AV AVD AVP
13)AVP 22 MATAGORDA
---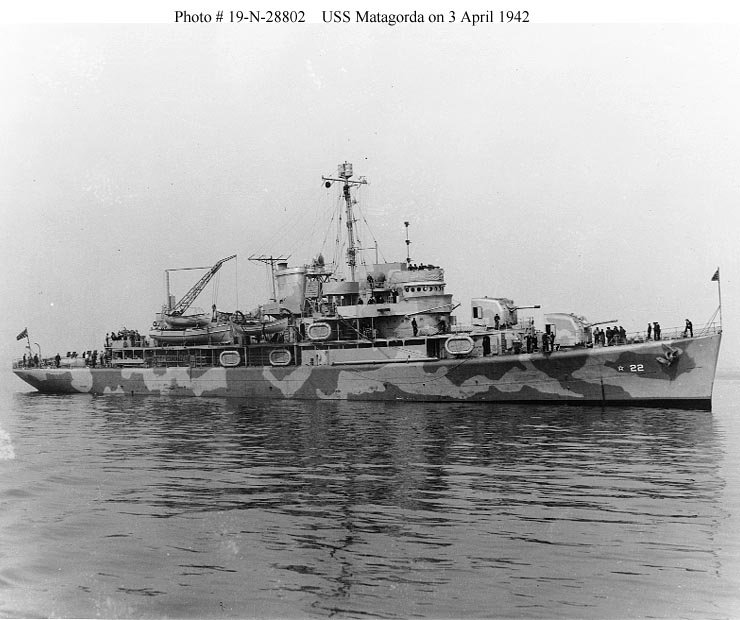 ---
Photo. www.navsource.org
---
AVP 22 Matagorda, 3 April 1942, at Boston, MA, in her original configuration with 2 5"/38 guns. She is wearing Measure 12(modified) camouflage. US National Archives Photo # 19 N-28802, a US Navy Bureau of Ships photo now in the collections of the US National Archives
---
Specifications:
Displacement 1,766 t.(lt) 2,750 t.(fl)
---
Length 311' 8".
---
Beam 41' 1".
---
Draft 13' 6".
---
Speed 18.6 kts.
---
Complement 215.
---
Largest boom capacity 10 t.
---
Armament: One single 5"/38 dual purpose gun mount, one quad 40mm AA gun mount, two dual 40mm AA gun mounts, four dual 20mm AA gun mounts.Ships Service Generators: Two diesel-drive 100Kw 450V A.C. two diesel-drive 200Kw 50V A.C.
---
Fuel Capacities: Diesel 1,955 Bbls. Gasoline 84,340 Gals.
---
Propulsion: Two General Motors 12-288 diesel engines, single Fairbanks Morse Main Reduction Gear, two shafts, 6,080 shp.
---
Departing Boston 18 April, AVP 22 Matagorda loaded seaplane supplies at Bayonne, N.J., and sailed the 22d for Brazil, reaching Recife 6 May. During the better part of the next year she conducted extensive training and supply operations and ranged Brazilian waters from Belem to Florianopolis. In late May and again in July she tended seaplanes at Florianopolis.
---
She interrupted this duty 24-25 July when she searched for and rescued the entire crew of 67 men from the American merchant ship SS William Gaston, torpedoed late the 23d off the Brazilian coast. Again, while operating out of Fortaleza, she rescued five survivors of a downed PBY5 plus the crew from an assisting PBM on 29 August. Matagorda made numerous runs along the coast during supply and training missions.
---
Based at Recife, she visited many Brazilian ports including Victoria, Natal, the island of Fernando de Noronha, Bahia, and Rio de Janeiro. She departed Recife I April 1945, touched briefly at San Juan, and reached Norfolk 14 April. From 2 June to 6 July she made two runs to Bermuda and Puerto Rico, returning to Norfolk with men of seaplane squadrons.
---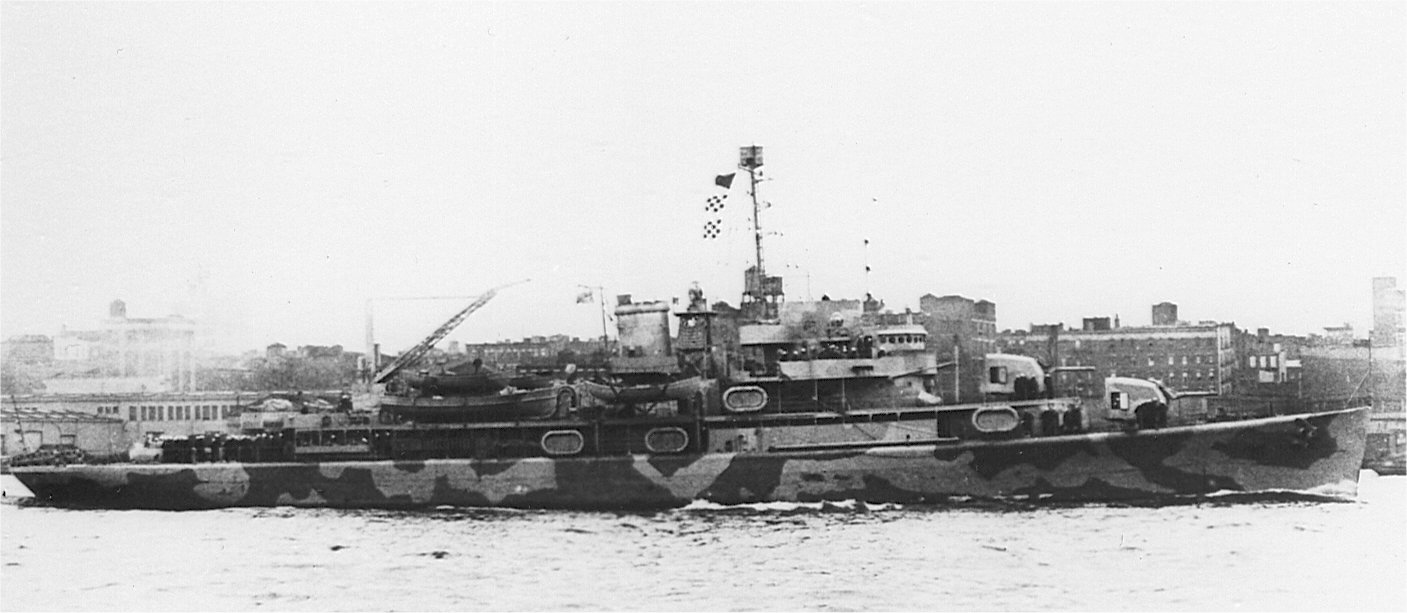 ---
USS Matagorda underway, date and location unknown. US Navy photo by David Buell www.navsource.org
---
DANFS. DICTIONARY OF AMERICAN NAVAL FIGHTING SHIPS
---
OTHER ARTICLES YOU MAY FIND SIMILAR