U S NAVY 4th FLEET AT RECIFE - SHIP INDEX AM AO AP ARS AS AT
7)AM 258 LOGIC
---
---
Photo. www.navsource.org
---
---
Photo. www.navsource.org Historical collections of the Great Lakes.
---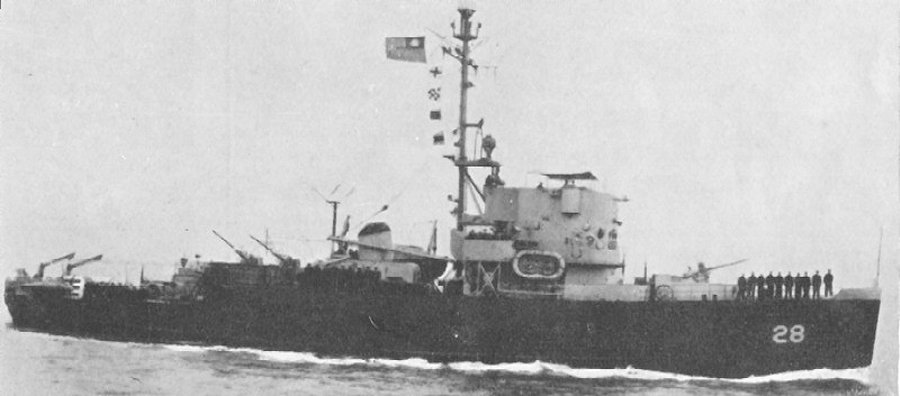 ---
Photo. www.navsource.org . AM 258 seen in Chinese Nationalist Navy. By Robert Hurst
---
Specifications:
---
Displacement 945 t.(fl)
---
Length 184' 6".
---
Beam 33'.
---
Draft 9' 9".
---
Speed 14.8 kts.
---
Complement 104.
---
Armament: One 3"/50 cal. dual purpose mount and one twin 40mm gun mount, six single 20mm gun mounts, one depth charge thrower (hedgehogs), four depth charge projectiles (K-guns), two depth charge tracks.
---
Propulsion: Two 1,710shp Cooper Bessemer GSB-8 diesel engines, National Supply Co. single reduction gear, two shafts.
---
Logic (AM-258) was laid down by American Shipbuilding Co., Lorain, Ohio, 27 October 1942; launched 10 April 1943; sponsored by Lt. (jg.) Mary Erbenz, USCGR; and commissioned 21 November, Lt. S. H. Squibb in command.
---
After a cruise through the Great Lakes, Logic engaged in shakedown exercises in Chesapeake Bay. Departing Little Creek, Va., 25 January 1944, the minesweeper sailed for South America, arriving Recife, Brazil, 4 March. For the next 12 months Logic operated out of Recife with Mine Division 31, sweeping the main shipping channels of South American ports. She also escorted convoys from Brazil to Trinidad, patrolled the harbor, and engaged in antisubmarine training.
---
DANFS DICTIONARY OF AMERICAN NAVAL FIGHTING SHIPS
---
OTHER ARTICLES YOU MAY FIND SIMILAR