U S NAVY 4th FLEET AT RECIFE - SHIP INDEX AM AO AP ARS AS AT
10)AO 45 BIG HORN
---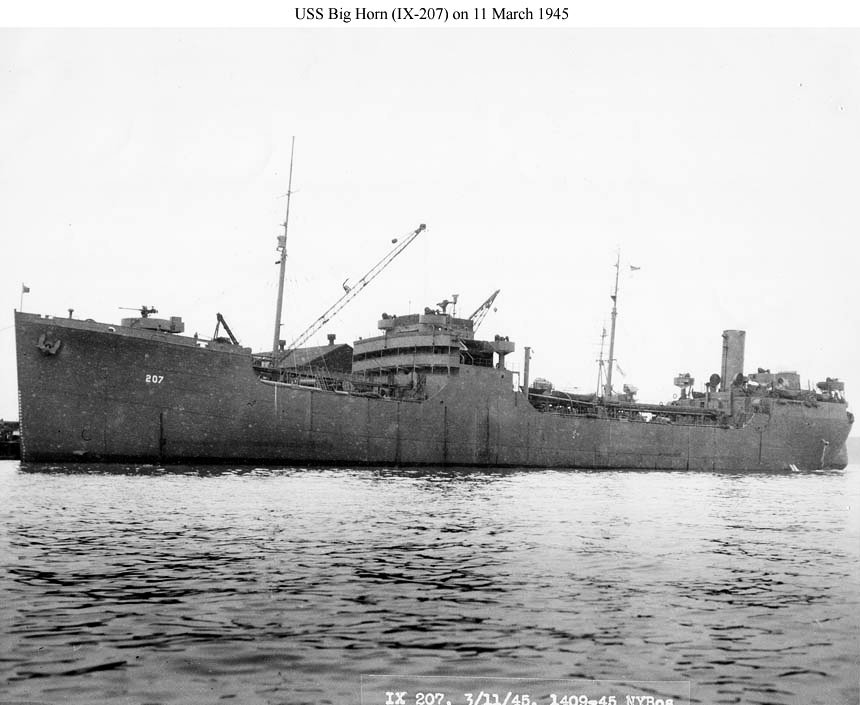 ---
Photo. www.navsource.org US National Archives / Mike Green.
---
Specifications:
---
Displacement 4,150 t.(lt) 15,405 t.(fl)
---
Length 426' 4".
---
Beam 64' 2" .
---
Draft 27' 9".
---
Speed 12.5 kts.
---
Complement 239.
---
Armament two 3"/50 dual purpose gun mounts.
---
Propulsion 2 x Westinghouse 2-cylinder direct drive turbines; Foster-Wheeler watertube 450-psi main boilers; 3,300 shaft horse power, single propellers.
---
On 27 July 1943, PC--618 put to sea with Big Horn and PC--617 as part of Convoy UGS--13 in hopes of a more successful U-boat hunt. Again, however, she and her associates failed to make a kill. The decoy ship Big Horn again straggled about 50 miles behind the convoy while the two patrol craft waited just over the horizon. On one occasion, Big Horn sighted a submarine, and one of the escorts attacked the U-boat, unsuccessfully, with her mousetrap battery. Otherwise, the cruise proved uneventful, and PC--618 returned to New York in August with no submarines to her credit. In mid-summer 1943, Big Horn served as the flagship of another small task group, which patrolled the Atlantic north of the Azores and as far south as Brazil and West Africa. This was the last Q-ship patrol in which Big Horn participated.
---
After another hunting cruise in the vicinity of Recife, Brazil, conducted in the latter half of August and the month of September, PC-618 returned to New York early in October for additional training. In November, the Big Horn decoy/killer group was reconstituted for one final, but also unsuccessful, cruise in the area around Bermuda. That assignment ended late in December at Boston, and the group was dissolved for the last time.
---

---
Photos. www.shipscribe.com
---
DANFS DICTIONARY OF AMERICAN NAVAL FIGHTING SHIPS
---
OTHER ARTICLES YOU MAY FIND SIMILAR