U S NAVY 4th FLEET AT RECIFE - SHIP INDEX AM AO AP ARS AS AT
4)AM 255 JUBILANT
---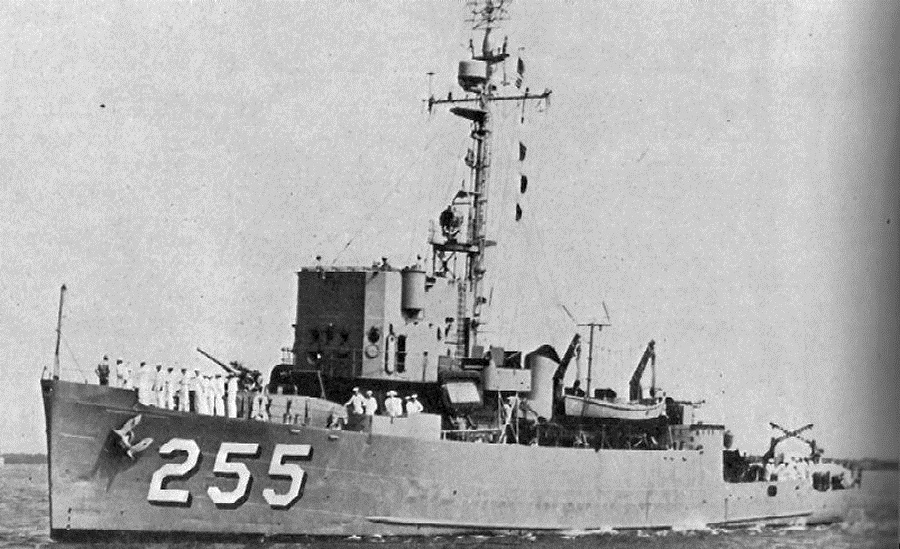 ---
Photo. www.navsource.org
---
Specifications:
---
Displacement 945 t.(fl)
---
Length 184' 6"
---
Beam 33'
---
Draft 9' 9"
---
Speed 14.8 kts.
---
Complement 104.
---
Armament: One 3"/50 cal. dual purpose mount and one twin 40mm gun mount, six single 20mm gun mounts, one depth charge thrower (hedgehogs), four depth charge projectiles (K-guns), two depth charge tracks.
---
Propulsion: Two 1,710shp Cooper Bessemer GSB-8 diesel engines, National Supply Co. single reduction gear, two shafts.
---
Jubilant (AM-255) was lunched 20 February 1943 by American Shipbuilding Co., Lorain, Ohio; sponsored by Mrs. C. D. Bishop; and commissioned 27 August, Lt. (j.g.) W. P. Sprunt in command.
---
Jubilant departed Lorain 13 September and steamed via Quebec and Argentia, Newfoundland for Little Creek, Va. While sailing along the Atlantic coast, she made a submarine contact, 23 October and launched a depth charge and hedgehog attack which resulted in a probable hit. Arriving Little Creek the 23d, she commenced 4 months of minesweeping and escort training, and then departed 1 March 1944 for convoy escort duty in the South Atlantic.
---
She arrived at Trinidad British West Indies 12 March and departed the next day as escort for a convoy bound for Recife, Brazil. Arriving 26 March, she proceeded to Rio de Janeiro and Bahia, Brazil before returning to Trinidad 30 May Jubilant made several escort voyages between Trinidad and Brazilian ports and engaged in coastal minesweeping operations before departing Trinidad 23 March 1945 for the United States.
---
DANFS DICTIONARY OF AMERICAN NAVAL FIGHTING SHIPS
---
OTHER ARTICLES YOU MAY FIND SIMILAR