SHIPS HIT USA 80 *
8)WEST ZEDA U-129
---
---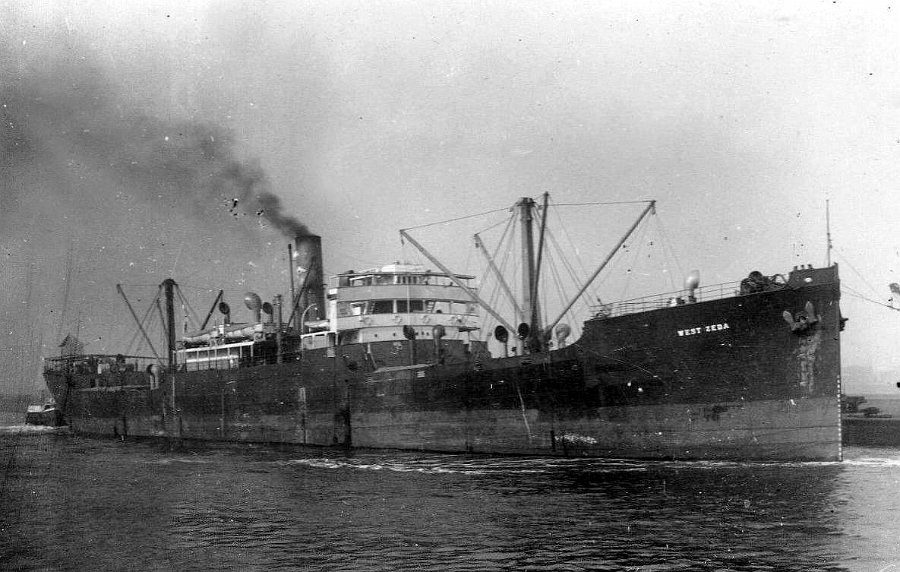 ---
Photo. www.photoship.co.uk
---
---
Built: 1918
---
Tonnage: 5,658 / 8,500 tons
---
Cargo: Part cargo of chrome ore as ballast.
---
Route: Mombassa - Capetown - Trinidad - Philadelphia, Pennsylvania
---
Sunk 22 FEB 42 by U-129 on pos. 09º 13"N 59º 04"W
---
0 Dead
---
35 Survivors
---
Completed December 1918 for US Shipping Board (USSB), later laid up as part of the reserve
---
At 04.43 hours on 22 Feb, 1942, the unarmed and unescorted West Zeda (Master Ivar J.H. Rosequist) was hit on the starboard side by one G7a torpedo from U-129 about 125 miles southeast of Trinidad. The torpedo had been spotted by the third officer, but it was too late and it struck at the #2 hold, blowing the hatch cover into the air. The nine officers and 26 crewmen abandoned ship in both port lifeboats within ten minutes and after sending four distress signals without receiving an answer.
---
At 04.57 hours, a G7 coup de grâce hit amidships in the engine room and caused the ship to break in two and to sink after ten minutes. At noon the survivors were picked up by the schooner Emeralda from St. Vincent after being spotted by an US Navy patrol aircraft and taken to Georgetown, British Guiana.
---
The West Zeda had been bombed while at Suez and was badly damaged when she ran aground in the Red Sea on her homebound voyage. Temporary repairs were made two weeks at Aden and four months in Mombasa before she left to Philadelphia for permanent repairs.
---
By West Zeda (American Steam merchant) - Ships hit by German U-boats during WWII - uboat.net
---