ROYAL NAVY SOUTH ATLANTIC COMMAND - ROYAL NAVY E F H I 15 SHIPS
5)EXETER (HEAVY CRUISER)
---
---
Photo. www.wikipedia.org
---
---
Class and type: York-class heavy cruiser
---
Ordered 15 March 1928
---
Builder Devonport Dockyard, Plymouth
---
Laid Down 1 August 1928
---
Launched 18 July 1929
---
Commissioned 27 July 1931
Fate: Sunk in battle, 1 March 1942, Second Battle of the Java Sea
---
Displacement: 8,390 tons standard. 10,410 tons full.
---
Length: 540 ft (160 m) p/p 575 ft (175 m) o/a
---
Beam: 58 ft (18 m)
---
Draught: 17 ft (5.2 m)
---
Propulsion Eight Admiralty 3-drum water-tube boilers Parsons geared steam turbines Four shafts 80,000 shp
Speed 32¼ kts (30½ kts full load)
---
Range: 5,730 nmi at 13 knots.
---
Complement: peacetime 550 wartime 680
---
Armament: Original configuration: 8 × 6 in guns 4 × 4 in guns
12 × 0.5 in machine guns 8 × 21 in torpedo tubes
---
Armour: 3 in magazine box 1 inch deck 1 inch turrets
---
Aircraft carried: One catapult-launched aircraft
Original type was a Fairey Seafox catpult and aircraft later replaced with Supermarine Walrus
---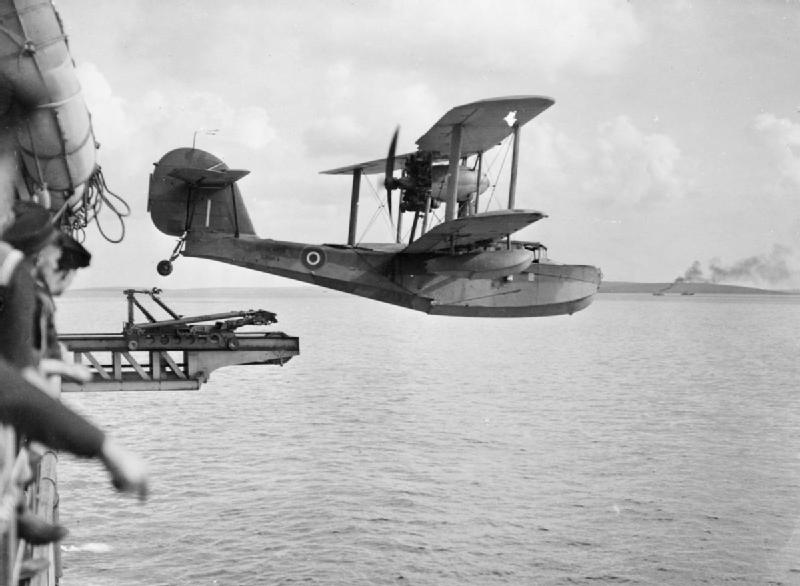 ---
Photo www.wikipedia.org by A 1525 from IWM
---
At the outbreak of the Second World War, she formed part of the South American Division with Cumberland, underCommodore Henry Harwood. Together with the Leander-class light cruisers Ajax and Achilles she engaged the Germanpocket battleship Admiral Graf Spee in the Battle of the River Plate on 13 December 1939, which culminated in the scuttling of the Admiral Graf Spee several days later. Exeter operated as a division on her own, Achilles and Ajax as the other, in order to split the fire of Graf Spee. Exeter was hit by seven 11-inch shells and several near misses caused significant splinter damage.
---
Sixty-one of her crew were killed and another twenty-three wounded. All three 8-inch turrets were put out of action and her speed was reduced to 18 knots (33 km/h), forcing her to withdraw from battle. Exeter made for Port Stanley in the Falkland Islands for emergency repairs which took until January 1940, then returned to Devonport, escorted by the carrier Ark Royal, without assistance for full repairs and a modernisation refit between February 1940 and March 1941.
---
On 10 March, 1941, during the repair and refit period, her commanding officer, Captain W.N.T. Beckett MVO DSC died at Saltash Hospital, from complications resulting from surgery related to injuries received earlier in his career. He died the day Exeter was due to be re-commissioned. His replacement was Captain Oliver Loudon Gordon.
---
On returning to the fleet in 1941 she was engaged on escort duty for Atlantic convoys, including the escort of convoy WS-8B to the Middle East during the Bismarck episode. After this, she went on to the Far East.On the entry of the Empire of Japan into the war in December 1941, Exeter formed part of the ABDACOM naval force intended to defend the Dutch East Indies (Indonesia) from Japanese invasion.
---
Fate: Ambushed by Japanese cruisers HAGURO and NACHI escorted by four destroyers which were engaged in a running fight. Soon afterwards hit in boiler room and lost use of director control for main armament. Despite smoke screens laid by destroyers received more hits. Fires broke out and all electrical power supplies failed. Ship was abandoned after 3 hours in action. Finally sunk by torpedo. 54 of the ship's company were killed in this action and 651 were rescued by Japanese ships and became POW.
---
OTHER ARTICLES YOU MAY FIND SIMILAR