BRAZILIAN NAVY SOUTHERN NAVAL FORCE - SOUTHERN NAVAL FORCE
6)CV JACEGUAI
---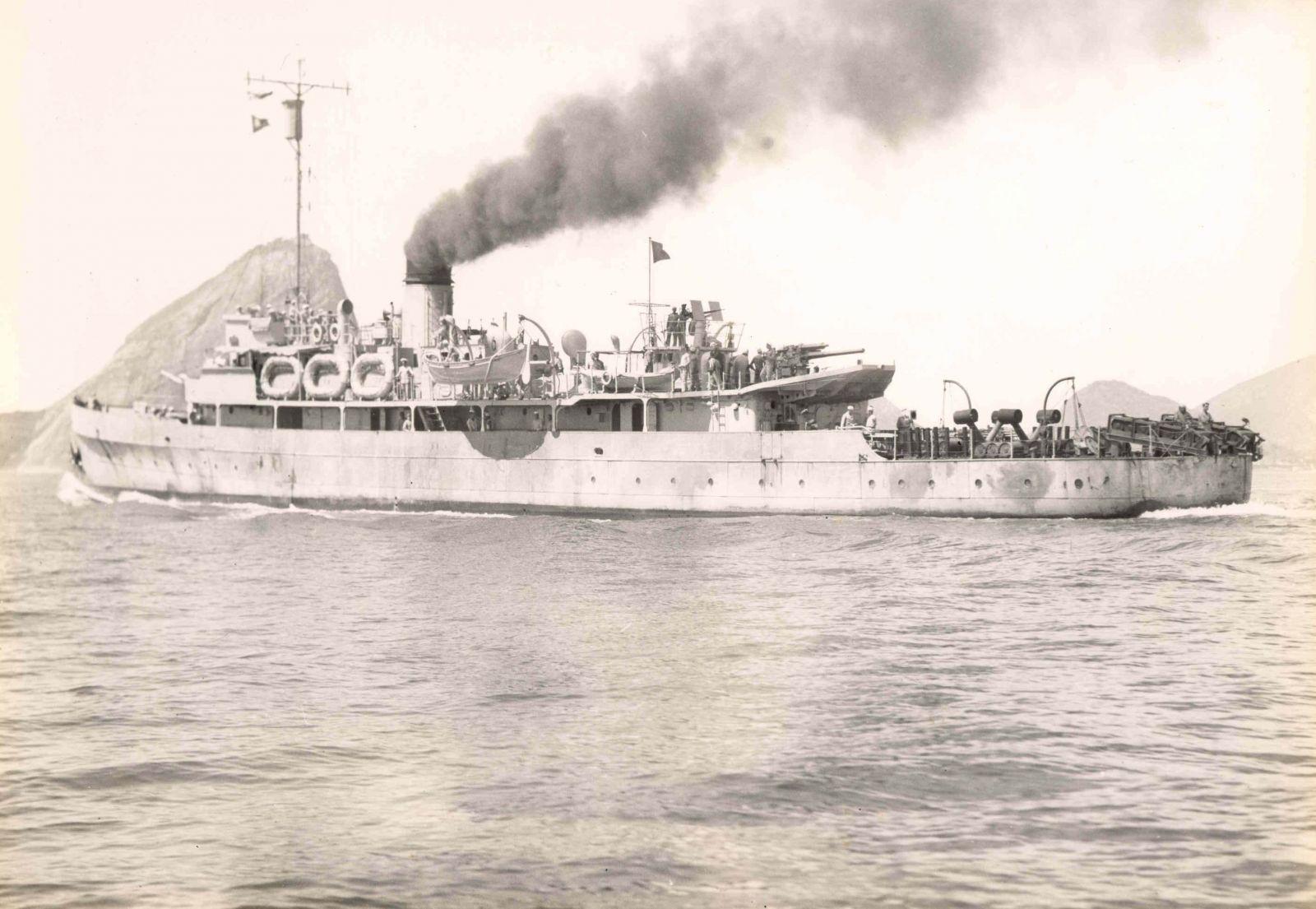 ---
Above Corvette Jaceguai seen sailing at full steam at Guanabara Bay Rio de Janeiro with the Sugar Loaf at the bottom. Photo http://www.naval.com.br/
---
Displacement: 985 ton. max.
---
Length: 70,45 meters.
---
Beam: 8,71 meters.
---
Draught: 2,90 meters.
---
Propulsion: Two Yarrow triple expansion steam boilers with 3 cilinders 230 pounds per inch with 2,200 HP.
---
Speed: 15 Knots.
---
Range. Max 1300 NM.
1600 NM at 11 kts
---
Armament Two 101,6mm Armstrong Model II Guns
3 20mm Oerlikon Machine guns
Two depth charge rails with capacity for 7 bombs each
Two central "Y" throwers Mod. VI depth bombs.
---
For rescue purposes, the ship was equipped with a motorboat for 22 people, a lifeboat with a capacity for 22 people, 6 cork rafts
with a capacity of 15 people each and a boat for 8 people, also vests and life savers
---
Complement. 94 in peacetime increased during war.
---
Decommissioned 12 November 1952
---
Jaceguai was Ex British built Racecourse Class HMS Fairfield. Initially used by Brazilian Navy as a Survey ship. She was acquired and incorprated on17/02/1937. With Brazil entry in the war, Jaceguai was reclassified as a Corvette being incorporated to the Southern Naval Force at Rio de Janeiro. She had an active role in the Second World War during the period of September 1943 to December 1944 in war operation, carrying out 14 escort commissions including Brazilian and foreign merchant ships.
---
OTHER ARTICLES YOU MAY FIND SIMILAR