BRAZILIAN NAVY NORTHEAST NAVAL FORCE * - 7 CORVETTES 2 CRUISERS 2 BATTLESHIPS
5)SCOUT CRUISER RIO GRANDE DO SUL
---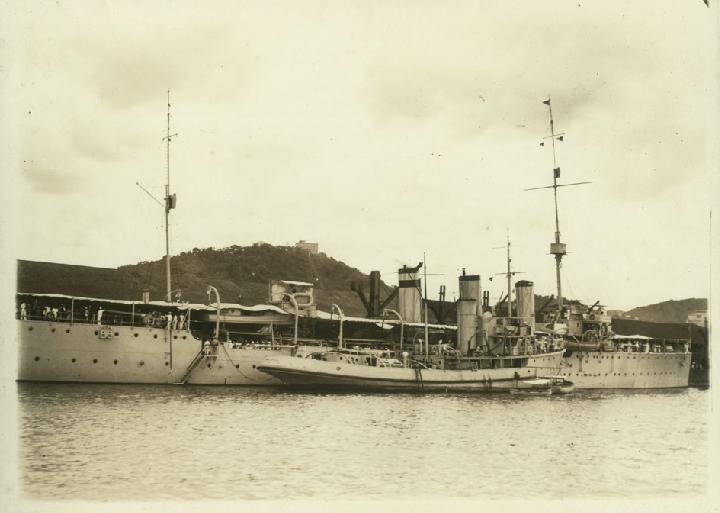 ---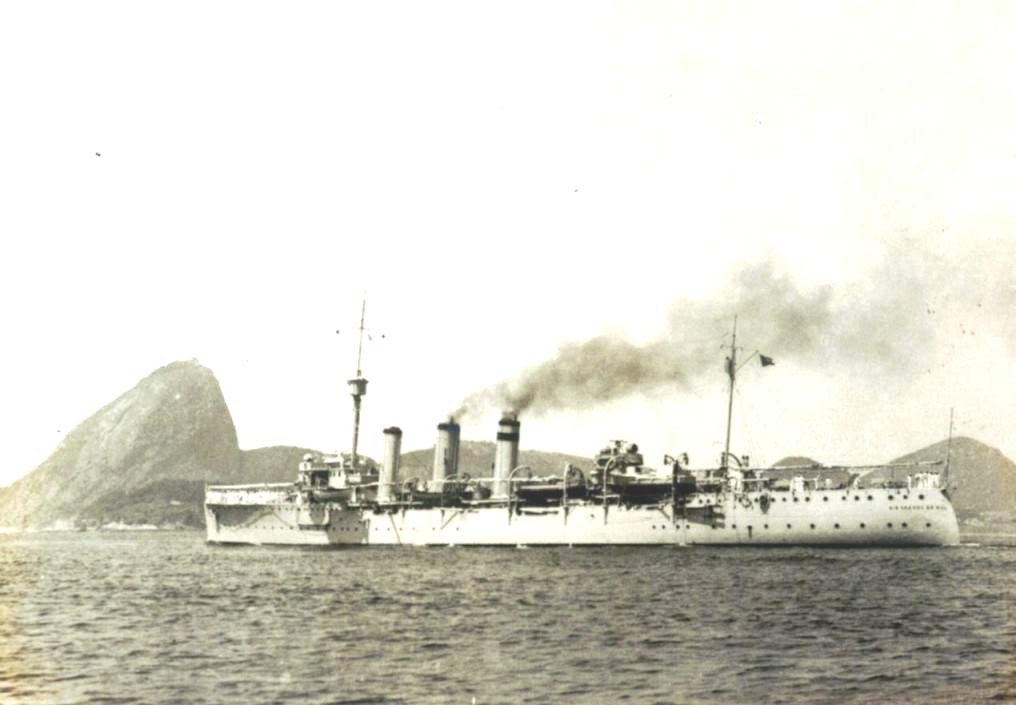 ---
Pictures by SDGM (Serviço de Documentação Geral da Marinha)
---
Built: 1910
---
Tonnage: 3.150 ton. (Loaded)
---
Length: 122.37 m
---
Beam: 11.88 m
---
Draught: 4.15 m.
---
Armour: Main deck 1.5 pol.
---
Engines: Steam; 3 Boilers Yarrow, coupled to 3 Parsons steam turbines, delivering 18.000 hp, coupled to 3 axis with three propellers.
---
Speed: máx. 26.5 knots.
---
Range: 2.400 Nautical miles @ 24 nós, 3.092 @ 18 knots or 6.600 km @ 10 knots. (Fuel oil engines).
---
Armament: 10 Vickers Armstrong guns of 4.7 pol/50 cal. (120 mm) in single mountings; 6 47 mm guns in single mountings and 2 18 inch. dual torpedo tubes.
---
Sensors and Fire Direction: Fire direction consisted of one voice tube linked to the control stations, decks, plotting room and batteries in the second deck.
---
Call sign : PXRG(GBDP)
---
Complement: 340.
---
On 5/Oct 1942 she was under subordination of the FNN (Força Naval do Nordeste) Northeast Naval Force created by the Ordinance # 1661 of that same day to replace the Cruiser Division, commanded by Captain Alfredo Carlos Soares Dutra, and subordinated to the Commander Fourth Fleet Rear Adm. (USN) Jonas H. Ingram.
---
FNN was initialy composed by Cruisers Bahia - C 12, Minelayers Carioca - C 1, Cabedelo - C 4 and Camaquã - C 6 and by the Sub chasers Guaporé - G 1 and Gurupi - G 2. The fleet was then added by other new ships received under Lend Lease. Later a few Class T Italian built submarines was added, plus the Tender Belmonte and Brazilian made Destroyers of Mahan Class, thus comprising the Task-Force 46 that operated until the end of the conflict.
---
She took part in several convoy escort duties between Bahia, Pernambuco and the island of Fernando de Noronha. On 18/Jul/44, at 08:30hs she suspended from the Arsenal da Ilha das cobras, (Snakes Island) at Rio heading convoy JT-18, which also included SC Jutaí - SC 52 and Graúna - G 8.
---
On 22/Sep/42 she departed Rio de Janeiro as part of a Transport Group composed by Cruiser USS Memphis - CL 13, and by USS Trumpeter - DE 180 and USS Cannon - DE 99 US Navy, with the task of escorting the 2nd and 3rd echelon of Brazilian Expeditionary Force with 25 000 troops which would see action in Italy. They were boarded in the US Transport ship USS General Mann and USS General Meigs.
---
On 23/Nov/44 Cruiser Rio Grande do sul departed Rio de Janeiro as part of one Transport Group composed by Destroyer Marcilio Dias - M 2 and Cruiser USS Omaha - CL 4, with the mission of escorting the 4th echelon of BEF (Brazilian Expeditionary Force) to the port of Naples in Italy. The troops were transported by USS AP 116 Gen Meigs.
---
FOLLOWING PAGES ON THE SAME ARTICLE