BRAZILIAN NAVY NORTHEAST NAVAL FORCE * - 7 CORVETTES 2 CRUISERS 2 BATTLESHIPS
2)BB MINAS GERAIS
---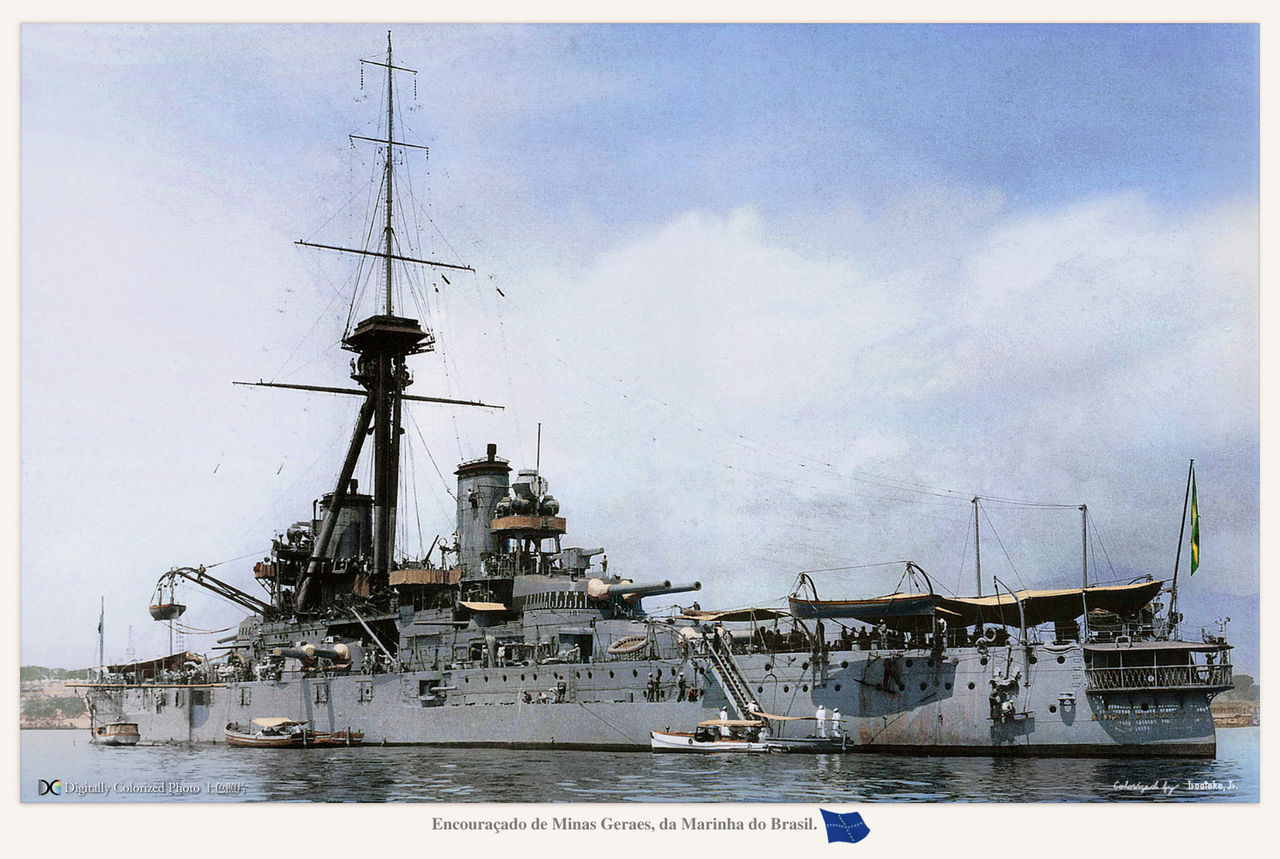 ---
Battleship Minas Geraes seen in colorized picture with her 12 305" guns. Photo https://forum.worldofwarships.com/topic/122658-color-pics-of-the-marinha-do-brasil-brazilian-navy-image-heavy/
---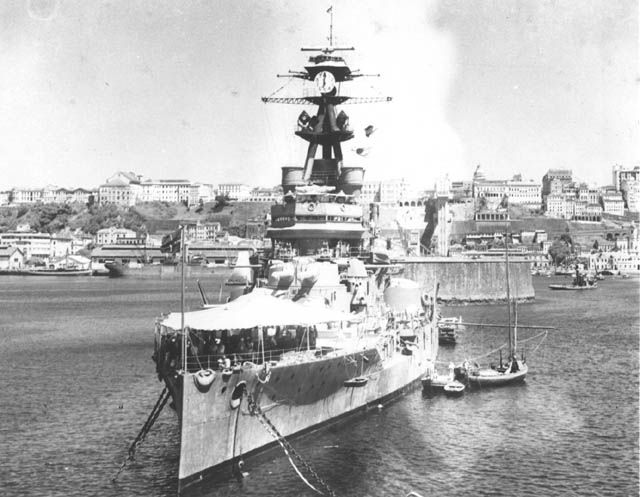 ---
Battleship Minas Gerais seen moored at Salvador Bahia as a Floating coastal battery. Picture by SDGM (Serviço de Documentação Geral da Marinha)
---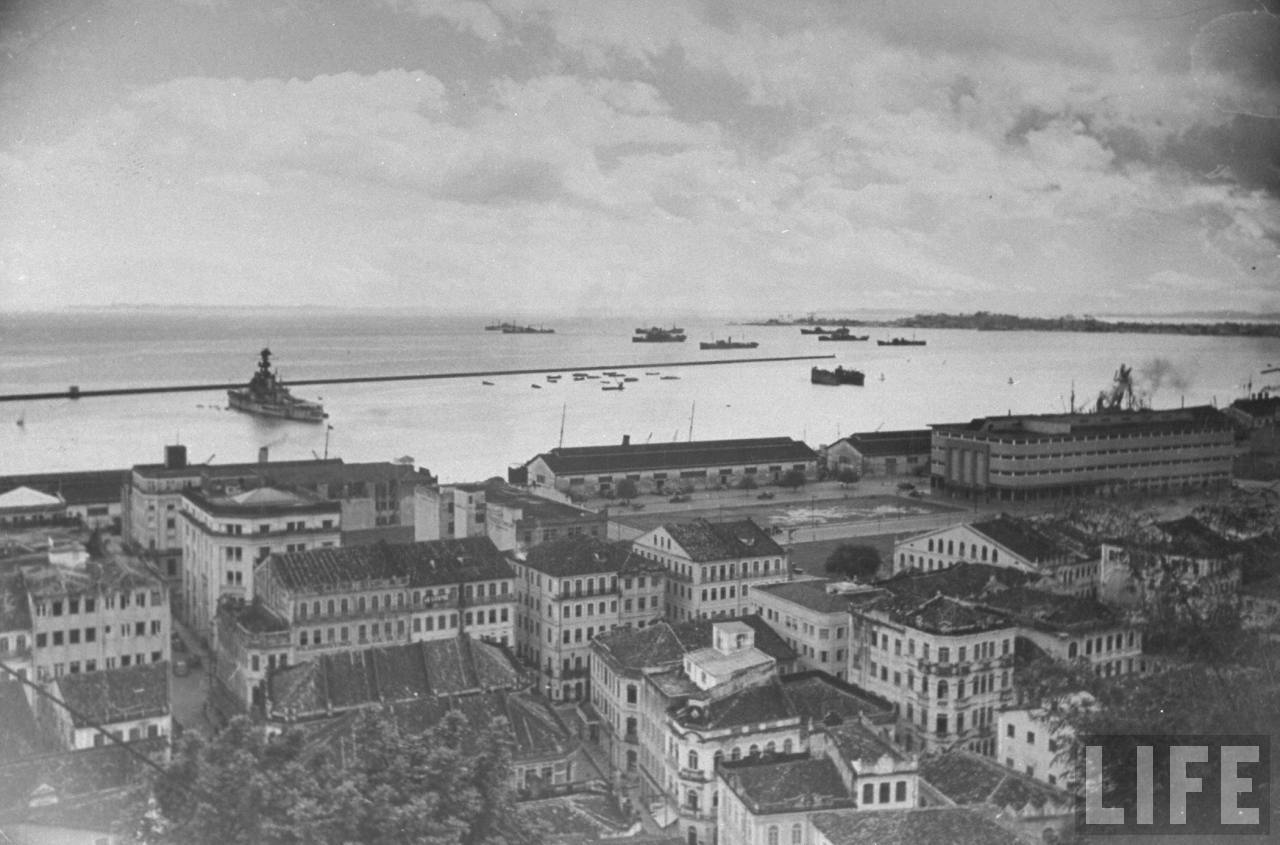 ---
Battleship Minas Geraes seen at Salvador harbor circa 1943. Photo LIFE magazine.
---
Laid down: 17/Apr/1907
---
Incorporated: 18/Apr/1910
---
Decom: 20/Set/1953
---
Tonnage: 23 200
---
Length: 165.61 m
---
Beam: 23.31 m
---
Draught: 8.54 m
---
Propulsion: 18 coal fired boilers Babcock & Wilcox, grouped into three sections, one with four and two with seven boilers, two steam machines triple expansion of Vickers Sons & Maxims, generating 23,500 bhp, one located on each side in watertight compartments independent and coupled the two axles with four-bladed propellers.
---
Fuel capacity: 2,750 tons of coal distributed in 36 bunkers.
---
Speed: 19,6 kts
---
Range: 10.200 miles at max. speed.
---
Armament: 12 Armstrong guns pol/45 12 cal. (305 mm) in six twin towers, 22 Armstrong guns pol/50 of 4.7 cal. (120 mm) guns and eight 47-Armstrong mm/50 cal. single repairs, which could be landed in boats and installed to support landing operations.
---
Complement: 1,173 men including 48 officers, 90 sergeants and first sergeants and 1035 ratings
---
Fate. On September 20 was sold to Italian firm SA Cantiere Navale Santa Maria. In 1954 on March 11, at 11:00 pm, suspended the last time the port of Rio de Janeiro, being towed to Europe. On April 22, arrived in La Spezia where she was dismantled.
---
FOLLOWING PAGES ON THE SAME ARTICLE