BRAZILIAN NAVY NORTHEAST NAVAL FORCE * - 7 CORVETTES 2 CRUISERS 2 BATTLESHIPS
12)CV 85 RIO BRANCO
---
---
Picture SDGM (Serviço de Documentação Geral da Marinha)
---
Laid down 1914
---
Incorporated to the Royal Canadian Navy (RCN): 3/Feb/1915
---
Decommissioned from. RCN: 3/Apr/1919
---
Incorporated to the Brazilian Navy (MB): 14/Dec/1932
---
Decommissioned 21 Mar 1957.
---
Tonnage : 825 ton (Full loaded).
---
Length: 55.59 m
---
Beam: 9.75 m
---
Draught: 4.57 m.
---
Speed: 15 knots.
---
Armament: 1 101,6mm Armstrong gun, 2 Madsen 20,1mm machine guns. In January 1943, a Submarine Signal Company Model WEA=2 underwater listening device was installed and in December of that year a chemical recorder type CAN=55 100=A from the Sangames-Electric Company.
---
Propulsion. 2 triple expansion J Thornicroft machines with 1050 HP. The ship had two Yarrow-type boilers burning fuel oil and which were installed in a compartment with two funnels.
---
Complement 9 Officers and 83 ratings
---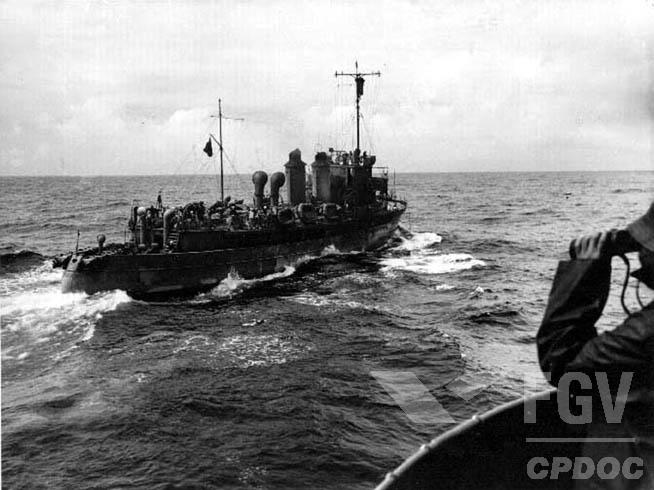 ---
In the deatail above, Corvette Rio Branco is seen plying the waters in one patrol and escort mission. Photo CPDOC Fundação Getulio Vargas, FGV.
---
With the entry of Brazil in the War, Rio Branco was reclassified from Survey ship into Corvette and incorporated to the FNN Naval Northeast Force. During her brief stay at the ports of Recife and Salvador, between two convoy escort missions, Rio Branco was involved in the task of mapping those two important ports. From December 16, 1943 to July 6, 1945, she was employed in convoy escorting, heading one of the groups running from Recife (PE) and Rio de Janeiro (RJ). During the war period the ship participated in the escort of 428 merchants being Brazilian and foreign ones, sailing a total of 72,203 miles with 308.5 days at sea.
---
FOLLOWING PAGES ON THE SAME ARTICLE