BRAZILIAN NAVY NORTHEAST NAVAL FORCE * - 16 SUBMARINE CHASERS
3)SUB CHASER GRAUNA G8
---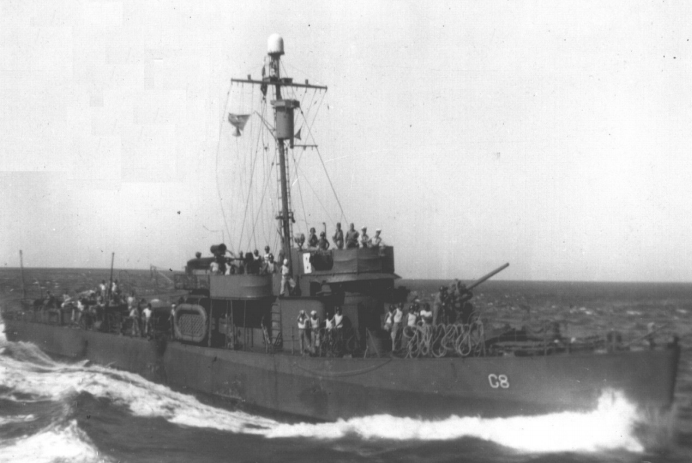 ---
Photo. https://www.marinha.mil.br/dphdm/sites/www.marinha.mil.br.dphdm/files/Ca%C3%A7a-Submarino%20Gra%C3%BAna%20I%281%29.pdf
---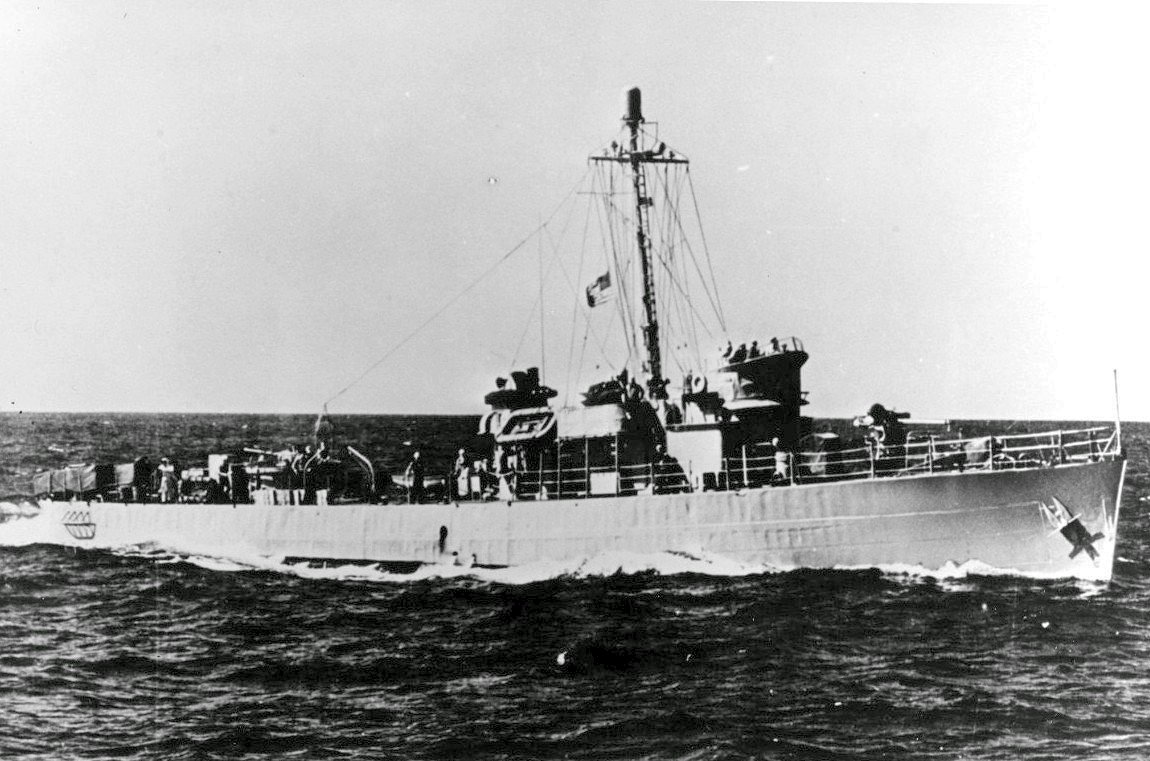 ---
Photo courtesy Donald M. McPherson 1977. Naval History and Heritage Command NH 85474. source Mike Green
http://www.navsource.org/archives/12/1201056103.jpg
---
Built 1942
---
Tonnage 295 t / 450 t. full loaded
---
Length: 52.73 m
---
Beam: 7.01 m
---
Draught 3.04 m.
---
Propulsion: Diesel; 2 Engines 16 Cylinders; General Motors Model 16-258S with 2.000 bhp, 2 shafts with 3 blade propellers.
---
Speed: max. 20 knots.
---
Range: 3.000 Nautical miles @12 knots.
---
Armament: 1 3 pol. (76.2 mm/50) Oerlikon gun; 1 Bofors L/60 gun, 40 mm in one single mounting Mk 3; 2 machineguns Oerlikon 20 mm single mountings Mk 4; 2 grenade octuples throwers of A/S (LBG) 7.2 pol. Mousetrap Mk 20 at the bow ; 2 Depth Charges rack Mk 3 and 2 side throwers type K Mk 6 for Depth Charges Mk 6 or Mk 9.
---
Sensors: 1 surveillance surface radar type SF or SL; 1 hull sonar.
---
Complement: 65
---
Sub Chaser Grauna - G 8, ex-USS PC 561, was built at Sullivan Dry Dock and Repair Co.Brooklyn, New York. She was launched 1st/May/42 and incorporated to the Brazilian Navy on 11/Jul/42. She was transferred and incorporated to the Brazilian Navy 30/Nov/1943 in a ceremony held at Miami, Florida.
---
Her first commander was Lieutenant Captain Luís Antônio Medeiros Neto. On 21/Jul/43, along with Sub Chaser Jutai, as part of the escort group of the convoy JT-18, rescued the survivors of Corvette Camaqua – C 6, which capsized and sunk in rough sea some 12 miles northeast of Recife (PE).
---
---
Above, Sub Chaser Grauna seen when entering Guanabara Bay at Rio de Janeiro with Forte da Laje in the bottom. SC Grauna escorted 26 convoys during the war.
---
OTHER ARTICLES YOU MAY FIND SIMILAR