BRAZILIAN NAVY NORTHEAST NAVAL FORCE * - 16 SUBMARINE CHASERS
13)SUB CHASER JUNDIAÍ CS 58
---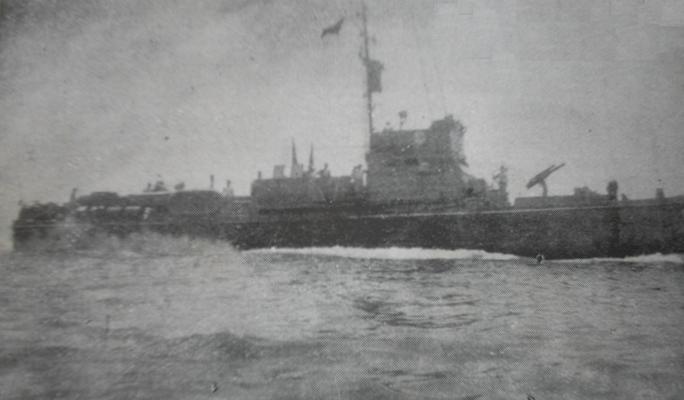 ---
Photo. SDGM (Serviço de Documentação Geral da Marinha)
---
SC-497 Class Submarine Chaser
---
Laid down 27 July 1942 by W. A. Robinson, Inc., Ipswich, MA
---
Launched 24 December 1942
---
Commissioned USS SC-1289, 12 February 1943
---
Transferred to Brazil 19 May 1943 and renamed Jundiai (CS 58)
---
Struck from the Naval Register, (1951). Fate unknown.
---
Displacement: 148 t
---
Length 110' 10"
---
Beam 17' 11"
---
Max. Draft 6' 6"(fl)
---
Speed 15.6 or 21k
---
Complement: 3 officers, 24 enlisted
---
Armament one 40mm, two 20-mm, two or three dcp "K Guns", 14 depth charges with six single release mounts, two sets Mk 20 Mousetrap rails with four 7.2 projectiles
---
Propulsion two General Motors 8-268A or two General Motors 16-184A "pancake" engines, two shafts.
---
On 13/Jun/43 she left Miami as part of one Transport Group in a mixed American-Brazilian escort group of convoy Guantânamo Bay - Aruba - Trinidad - GAT 68, arriving at Trinidad on 19/Jun.
---
On 27/Jun, she received orders to escort Brazilian Merchant Pelotaslóide, headed by Captain Jony Pereira Máximo, that due to excessive low speed of 6 knots was unable to take pace with the convoy, with the aggravation of belching to much smoke. Merchant Pelotaslóide was escorted by Jacuí until Recife, via Georgetown (Guyana), Belém (PA) and Cabedelo (PB). The call at Guyana was due to the necessity of getting some fuel to the Sub Chasers of the escort Group, to face the distance until Brazilian port of Belém. Boarded Pelotasloide, Captain Arthur Oscar Saldanha da Gama, assuming the function of Convoy Comodore.
---
During the trip Merchant Pelotasloide, facing favourable currents, developed 8 knots, thus canceling the call at Georgetown, heading direct to the Salinas lighthouse on the coast of Para. They finally arrived on 4th July. At 12:45 hs, one torpedo exploded at portside of Pelotasloide, being followed by a second one at the stern. The merchant rolled to port and sunk in a few minutes at the position 0º 24' S 47º 36' W. Sub Chaser Jacuí, then rescued Captain Saldanha da Gama, and dashed to the point where the attack was launched hunting for the enemy sub.
---
The chasers dropped several Depth Charges, and despite Sub Chaser Jundiaí - CS 58, under command of Captain Pedro Borges Lynch, having picked some positive sonar contacts, with the turbulence resulted by the explosions of the depth charges, the submarine could evade from the scene. The subsequent attempt to attack was called off once the Sub Chasers were unknown of some details of ASW tactics at that particular port. Sub Chaser Jundiaí rescued 37 survivors, in company with Jacui (CS-57), ex- SC 1288.
---
On 24 April 1944 Jundiaí rescued 24 survivors from British Merchant Nebraska sunk on 8 April by U-843 some 900 miles from Barra Nova inlet State of Sergipe They had been adrift for 16 days.
---
FOLLOWING PAGES ON THE SAME ARTICLE