BRAZILIAN NAVY NORTHEAST NAVAL FORCE * - 16 SUBMARINE CHASERS
10)SUB CHASER JAGUARÃO CS 55
---
---
Photo. https://www.marinha.mil.br/dphdm/sites/www.marinha.mil.br.dphdm/files/Ca%C3%A7a-Submarino%20Navio-Faroleiro%20Jaguar%C3%A3o%20IV.pdf
---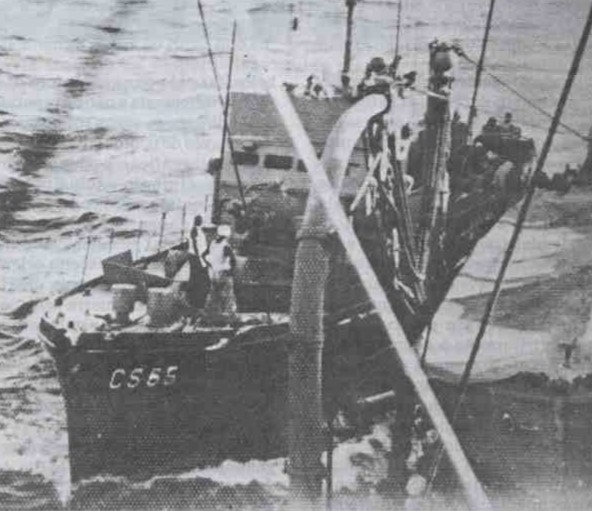 ---
CS 55 Jaguarão seen during one routine patrol mission. Photo Revista Maritima Brasileira 3rd Quarter 1987
---
Launched 12 November 1942
---
Commissioned USS SC-765, 3 December 1942
---
Decommissioned, (date unknown)
---
Transferred to Brazil 16 February 1943 and renamed Jaguarão (CS 55)
---
Struck from the Naval Register, 28 Jun 1950
---
Displacement 148 t
---
Length 110' 10"
---
Beam 17' 11"
---
Max. Draft 6' 6"(fl)
---
Speed 15.6 kts
---
Complement: 3 officers, 24 enlisted
---
Armament one 40mm, two 20-mm, two or three dcp "K Guns", 14 depth charges with six single release chocks, two sets Mk 20 Mousetrap rails with four 7.2 projectiles
---
Propulsion two General Motors 8-268A or two General Motors 16-184A "pancake" engines, two shafts.
---
On 9/Mar/43, left Miami bound to Key West along with CS 56 Jaguaribe. Between late March and April she took part in several convoy escort duties between Key West – San Juan – Trinidad.
---
On 5 Jun, already in Brazilian waters she was assigned to rescue some American aviators whose aircraft PBY-5 crashed at the dunes.
---
On 3/Jul, she left Salvador (Bahia), as part of one Task Group composed by CS Javarí and CV Caravelas, sharing part of the escort of the Convoy BT 18, with 7 merchants. Off Recife, the escort was relieved by American vessels and when in the vicinities of the harbor, an order was sent to the commander to meet CS Jacui and CS Jundiaí off Fortaleza to relieve them from the escort duty at one convoy composed by one Panamanian and 4 Brazilian merchants outbound from Belém to Recife.
---
When arriving at Recife, she received orders to assist and rescue some survivors of the convoy BT-18, the same convoy CS 55 escorted from Salvador, Bahia. This composition was attacked on 7/Jul by U-185 some 90 miles off Cape San Roque, where in a bold move the uboat penetrated the screen, torpedoing Merchants William Boyce Thompson and James Robertson. SC Jaguarão rescued 24 survivors from these two merchants
---
On 28/Jul, Rear Adm, Jonas Ingram, USN, in a letter sent to the Commander Northeast Naval Force, Rear Adm Soares Dutra, wrote: "The Fourth Fleet Commander, in this opportunity wish to express his appreciation for the excellent degree of organization, preparedness and readiness for action of your forces, as demonstrated by the swift response at a call for assistance by the occasion of an uboat attack on a convoy off Natal. This was particularly evidenced by the ability of CS Jaguarão and CS Jaguaribe,to suspend from their berths in a record time.
---
On 24/Aug, sided by CS Juruá, when escorting the merchants Cuiabá and Siqueira Campos, at the night Merchant Cuiaba rammed Siqueira Campos, gaping a hole in the latter. The group splitted having Merchant Cuiabá, escorted by CS Jaguarão gone to Fortaleza (CE).
---
On 25/Aug, she escorted Brazilian Merchant Itapagé, during a mission to assist Siqueira Campos, that ran aground by her own crew at the Aruaru inlet, some 40 miles SE of Fortaleza, to avoid sinking, but later declared a total loss.
---
1944
---
On 5/May, at 01:10 Am she was attacked by mistake by USN "blimp" K-132, which dropped one D/C over the ship. The bomb near missed by 20 meters.
---
FOLLOWING PAGES ON THE SAME ARTICLE