U S NAVY 4th FLEET AT RECIFE - SHIP INDEX PC PCE PG PY PYC
29)PCE 842 PATROL CRAFT ESC
---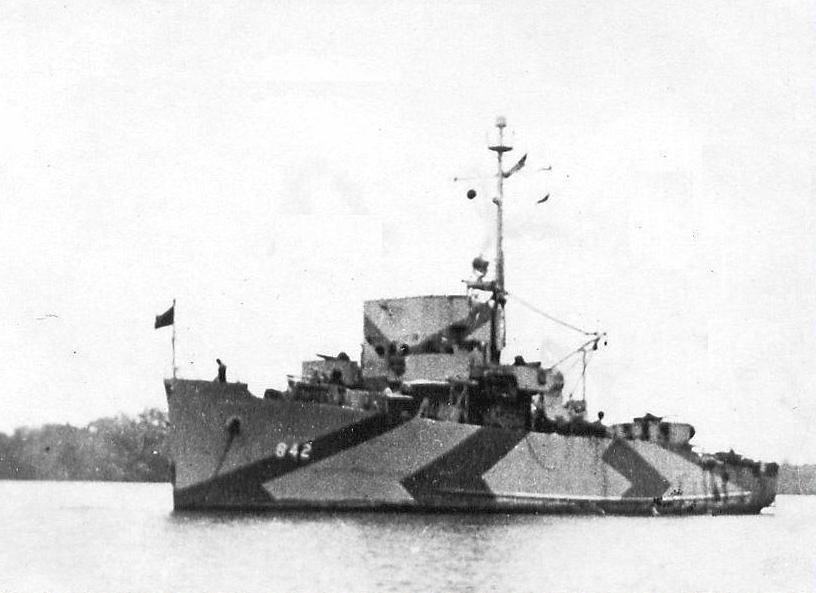 ---
Photo. www.navsource.org By Rudi Keil
---
Specifications
---
Displacement 850 t.
---
Length 184' 6".
---
Beam 33' 1".
---
Draft 9' 5
---
Speed 15.7 kts.
---
Complement 99.
---
Armament one 3"/50 dual purpose mount, three twin 40mm mounts, five 20mm mounts, two depth charge tracks, four depth charge projectors, one depth charge projector (hedgehog).
---
Propulsion 1,800bhp General Motors 12-567A diesel engines, Falk single reduction gear, two shafts.
---
After shakedown along the coast of Florida, PCE--842 departed Key West 15 March 1944 for convoy escort duty under the 4th Fleet out of Trinidad, British West Indies. She reached Teteron Bay 20 March and on the 31st sailed on her initial escort run. For the next 6 months, PCE-842 guarded convoys between Trinidad and Recife, Brazil, conducting intensive antisubmarine training between escort voyages. Until early December. On 11 December 1944, she arrived in Key West, Fla., for an overhaul to prepare for duty in the Pacific.
---
OTHER ARTICLES YOU MAY FIND SIMILAR