U S NAVY 4th FLEET AT RECIFE - SHIP INDEX DE
21)DE 240 MOORE
---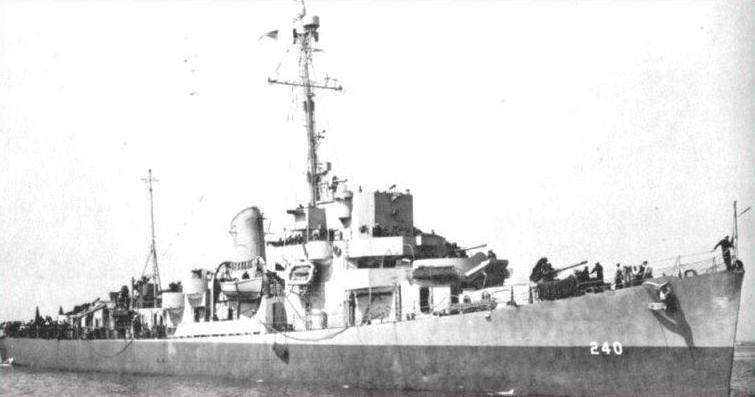 ---
Photo.www.navsource.org
---
CLASS: EDSALL
---
TYPE: FMR (geared diesel, Fairbanks-Morse reverse gear drive, 3" guns)
---
Displacement: 1,200 tons (std) 1,590 tons (full)
---
Dimensions: 306' (oa), 300' (wl) x 36' 10" x 12' 3" (max)
---
Armament: 3 x 3"/50 Mk22 (1x3), 1 twin 40mm Mk1 AA, 8 x 20mm Mk 4 AA, 3 x 21" Mk15 TT (3x1),1 Hedgehog Projector Mk10 (144 rounds), 8 Mk6 depth charge projectors, 2 Mk9 depth charge tracks.
---
Machinery: 4 Fairbanks-Morse Mod. 38d81/8 geared diesel engines, 4 diesel-generators, 6000 shp, 2 screws.
---
Speed: 21 knots.
---
Range: 9,100 nm @ 12 knots.
---
Crew: 8 / 201.
---
Following shakedown off Bermuda, DE 240 MOORE steamed to Norfolk where she reported for duty with TF 63, then escorted merchant convoys, beginning 10 September 1943. Before the end of the year she had transited the Atlantic to North Africa twice. On 13 January 1944, she relieved Destroyer escort DECKER (DE-47) for a month of operations off the New England coast under ComFleet Air Wing, Quonset, R.I.
---
In March, she sailed to Casco Bay, Maine, for abbreviated training exercises and then headed south to Norfolk where she joined TG 24.14 and sailed, on the 15th, in the screen of escort carrier TRIPOLI (CVE-64) for Antisubmarine patrol duty west of the Cape Verde Islands. As a unit of the 4th Fleet Recife for under 2 months, she returned to Norfolk, 27 April, and, in May, continued her patrols with TRIPOLI in the North Atlantic, from Bermuda to Argentia in TG 22.4.
---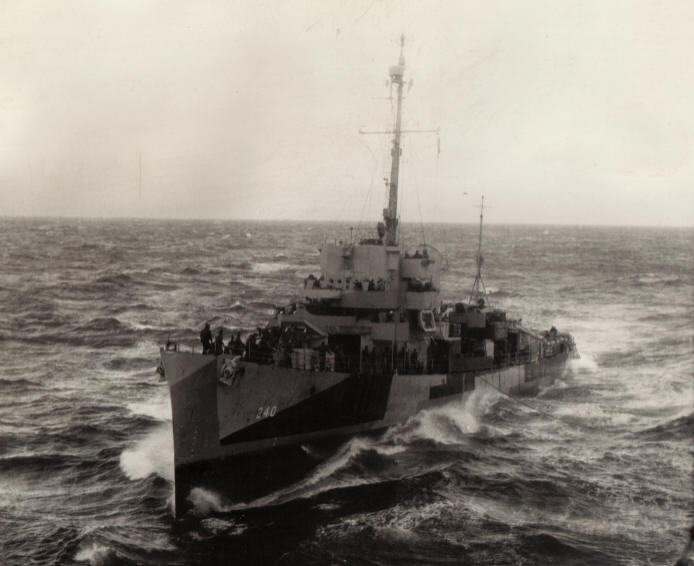 ---
USS Moore seen when plying the waters of the Atlantic. Photo. www.desausa.org by Len Bulwicz, Plankowner
---
OTHER ARTICLES YOU MAY FIND SIMILAR