U S NAVY 4th FLEET AT RECIFE - SHIP INDEX DE
17)DE 181 STRAUB
---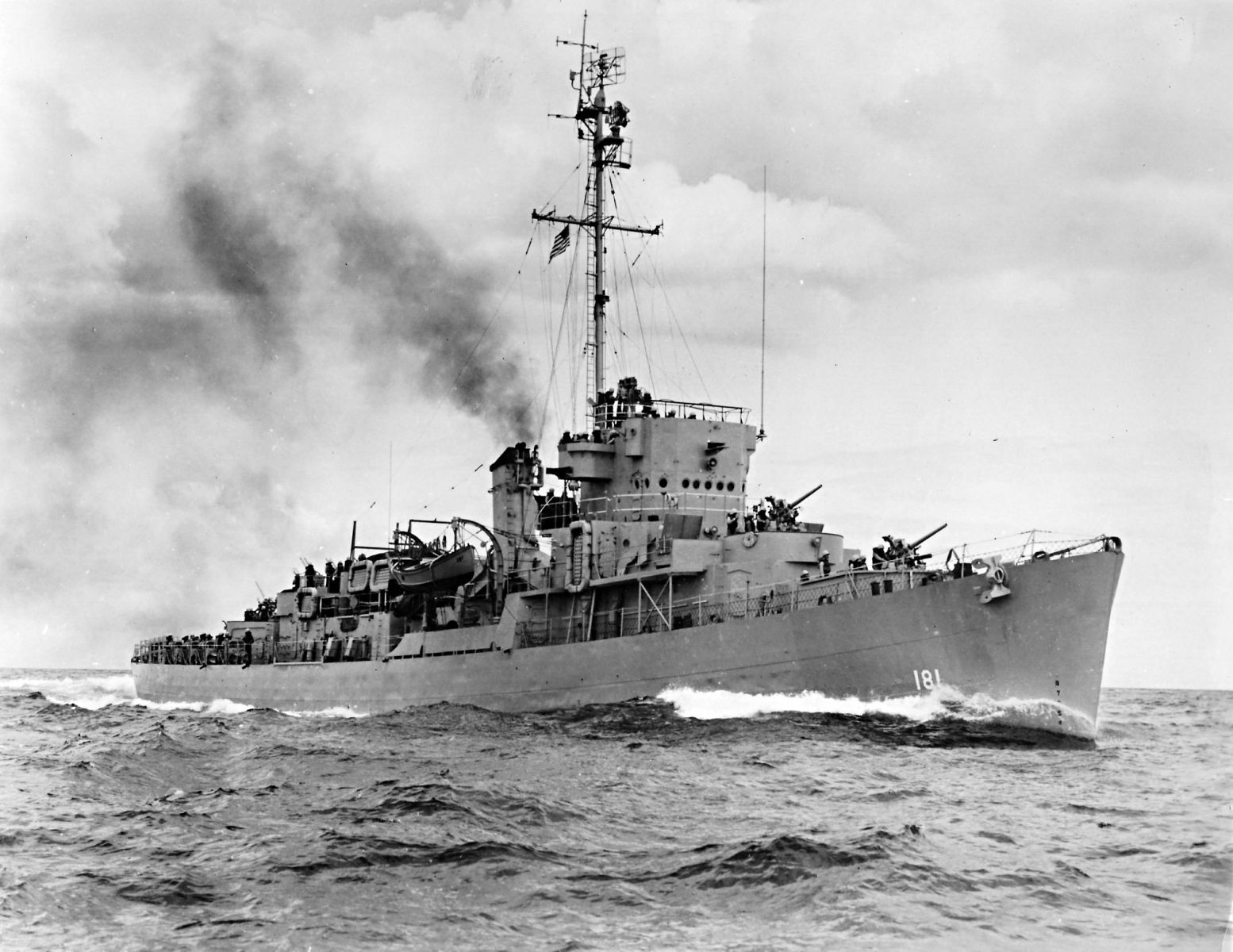 ---
Photo: www.navsource.org By Bill Gonyo
---
Class: CANNON.
---
Type: DET (diesel-electric tandem motor drive, long hull, 3" guns)
---
7 June 1943: Keel laid at the Federal Shipbuilding and Drydock Co., Port Newark, N.J.
---
19 September 1943: Launched and christened, sponsored by Mrs. Margaret H. Straub
---
25 October 1943: Commissioned at the Brooklyn Navy Yard, Lcdr James T. Kilbreth, USNR, in command.
---
17 October 1947: Decommissioned at Green Cove Springs, Fla.
---
1 August 1973: Stricken.
---
18 June 1974: Sold for scrapping to the Boston Metals Co., Baltimore, Md for $84,666.66
---
Displacement: 1240 tons (light), 1620 tons (full)
---
Length: 300' (wl), 306' (oa)
---
Beam: 36' 10" (extreme)
---
Draft: 10' 6" (draft limit)
---
Propulsion: 4 GM Mod. 16-278A diesel engines with electric drive, 6000 shp, 2 screws.
---
Speed: 21 kts.
---
Range: 10,800 nm @ 12 knots.
---
Armament: 3 x 3"/50 Mk22 (1x3), 1 twin 40mm Mk1 AA, 8 x 20mm Mk 4 AA, 3 x 21" Mk15 TT (3x1), 1 Hedgehog Projector Mk10 (144 rounds), 8 Mk6 depth charge projectors, 2 Mk9 depth charge tracks.
---
Complement: 15/201.
---
DE 181 STRAUB and task group called at Recife where STRAUB reported for duty with the 4th Fleet, and then moved on to Rio de Janeiro, entering port on the 7th. STRAUB was detached the next day and steamed out of Rio de Janeiro bound for Montevideo, Uruguay. STRAUB put in at Rio Grande do Sul, Brazil, for three days and, instead of making for Montevideo, visited Bahia from 17 to 28 March.
---
From there, she put to sea and joined TG 41.6 on the 31st. Led by escort carrier SOLOMONS (CVE-67), STRAUB and the rest of TG 41.6 plied the ocean searching for enemy submarines until 12 April. The task group returned to Recife for two days and sortied on 14 April for another U-boat hunt.
---
This second patrol, on 14 to 30 April, and the third, from 4 to 20 May, were both fruitless. After an 11-day repair period at Recife, STRAUB exited the harbor with TG 41.6 on 31 May 1944 for their fourth patrol. At the end of two weeks of quiet cruising, STRAUB picked up a report of a submarine sighting sent by one of SOLOMONS' pilots. In company with destroyer escort HERZOG (DE-178), she sped off to the U-boat's reported position to initiate a box search and engage the marauder if possible.
---
In the meantime, six other planes found the submarine, attacked, and sank her. That evening, STRAUB entered the area of the sinking to pick up survivors. She was able to recover the submarine's commanding officer, her executive officer, and 18 other crewmen. Late that night, she was forced by darkness to give up the search for Lt. (jg.) Chamberlain, the pilot whose depth charges had finished off both the U-boat and his own aircraft.
---
The prisoners were transferred to SOLOMONS on the next day, 16 June, and TG 41.6 returned to Recife on the 23d. STRAUB continued patrols with SOLOMONS and TG 41.6 until 22 August. At that time, she joined TG 41.7 and escort carrier TRIPOLI (CVE-64) and patrolled out of Recife for U-boats until sailing for New York on 15 November.
---
The escort remained in New York from 26 November to 27 December. She then moved via Key West, Fla. to Trinidad. There, between 11 and 30 January 1945 she participated in various tests and exercises. Returning to Recife on 30 January, she stayed in that port until 5 February when she got underway to escort light cruiser OMAHA (CL-4) on an official visit to Montevideo, Uruguay. STRAUB escorted her back to Recife between 22 to 28 March and sailed the next day for New York, arriving on 8 April.
---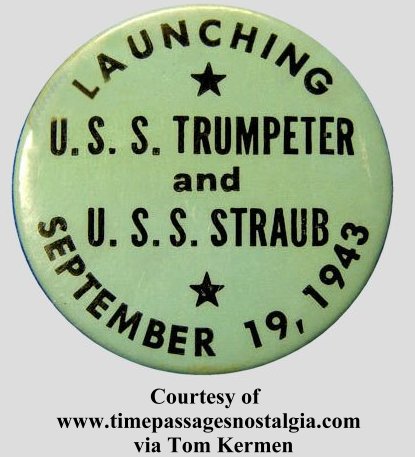 ---
OTHER ARTICLES YOU MAY FIND SIMILAR