U S NAVY 4th FLEET AT RECIFE - SHIP INDEX CL CG CP CVE
9)CVE 59 MISSION BAY
---
---
USS Msssion Bay seen in the Atlantic with Hellcats on the deck. Photo. www.navsource.org By Robert Hurst.
---
---
Mission Bay is seen entering New York harbor. In the same day after a collision with a dredge she proceeded to Portsmouth for repairs. Photo. www.navsource.org. By robert M. Cieri.
---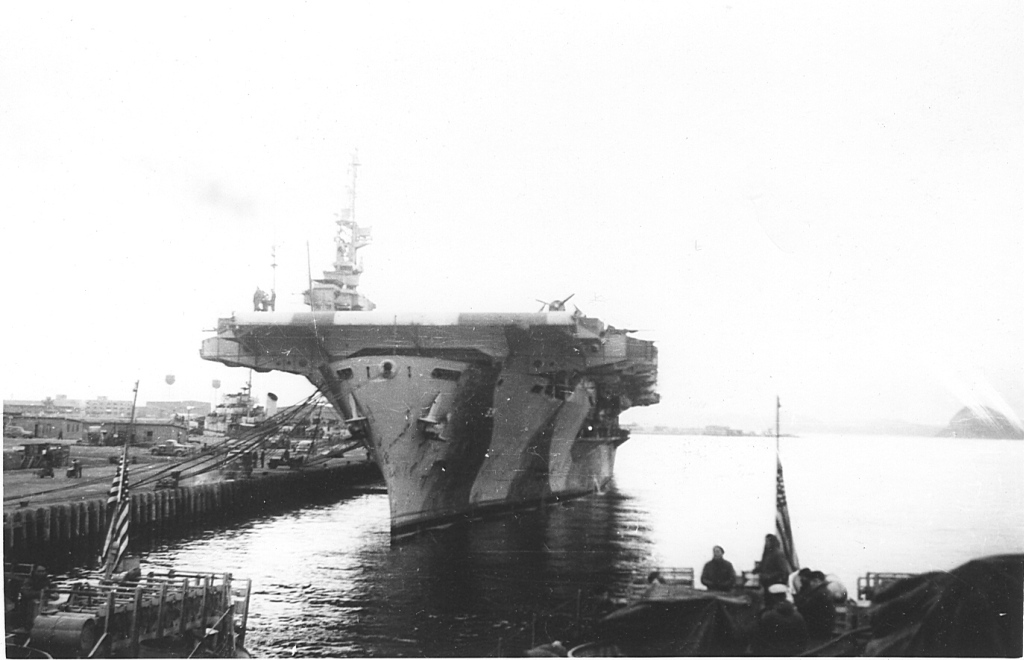 ---
USS Mission Bay is seen docked at Bahia along with CVE Wake Island in return trip from Karachi Pakistan where they delivered a load of Aircrafts and personnel. Photo. www.navsource.org. By David Buell
---
Displacement: 10,000 tons
---
Length: 512'3"
---
Beam: 108'
---
Draft: 22'4"
---
Speed: 19 knots
---
Armament: 1 5"/38 DP, 8x2 40mm, 20 mm;
---
Aircrafts: 12 TBM, 16 FM-2
---
Complement: 860
---
Reciprocating engines, twin screws, 9,000 shaft hp
---
Built at Kaiser S.B. Co., Vancouver and commissioned 15 September 1943
Originally scheduled to be built as AVG-59, Mission Bay (CVE-59) was redesignated ACV-59 on 20 August 1942 and laid down by Kaiser Co., Inc., Vancouver, Wash., 28 December 1942, launched 26 May 1943, sponsored by Mrs. James McDonald, redesignated CVE-59 on 15 July 1943; acquired by the Navy from the Maritime Commission 13 September 1943; and commissioned at Astoria, Oreg., the same day, Capt. William L. Rees in command.
---
After shakedown off California, Mission Bay departed San Diego 15 November for the east coast via the Panama Canal, arriving Portsmouth, Va., 5 December. Assigned to convoy and antisubmarine duty, she got underway for Europe the 26th, arriving Casablanca, French Morocco (now Morocco), 14 January 1944. Two days later, the escort aircraft carrier sailed for the east coast, reaching Portsmouth 8 February.
---
On 20 February, Mission Bay steamed from New York with a load of Army planes and personnel for India, stopping at Recife, Brazil; and Capetown, Union of South Africa (now Republic of South Africa), before arriving at Karachi 29 March. By 12 May she was back at Portsmouth.
---
On the 28th, the carrier departed New York again on another trip to North Africa. Mission Bay arrived Casablanca 6 June to steam for home 2 days later, entering the New York channel the 17th. That same day she collided with a dredge and had to continue on to Portsmouth for repairs, mooring 22 June.
---
On 8 September, Mission Bay steamed from Portsmouth for the south Atlantic. After refueling at Dakar, French West Africa (now Senegal), 20 September, she conducted antisubmarine operations into November ending at Portsmouth the 25th. She voyaged from Bahia, Brazil, to Dakar, French West Africa, and Capetown, Union of South Africa, and during a submarine hunt off the Cape Verde Islands on 30 September, made a contact against which she and her sisters operated 6 days, finally sighting a large oil slick, but no other evidence of a sunken submarine.
---
DANFS DICTIONARY OF AMERICAN NAVAL FIGHTING SHIPS
---
OTHER ARTICLES YOU MAY FIND SIMILAR