U S NAVY 4th FLEET AT RECIFE - SHIP INDEX CL CG CP CVE
2)CL 5 CRUISER MILWAUKEE
---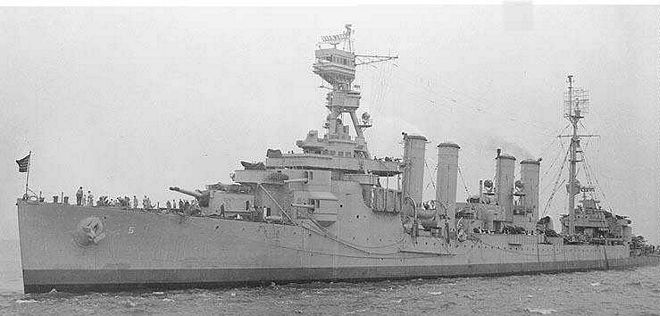 ---
Photo. www.navsource.org
---
CLASS - OMAHA
---
Displacement 7,050 Tons.
---
Dimensions, 555' 6" (oa) x 55' 4" x 20' (Max)
---
Armament 12 x 6"/53, 2 x 3"/50AA, 10 x 21" tt.
---
Armor, 3" Belt, 1 1/2" Deck, 1 1/2 Conning Tower.
---
Machinery, 90,000 SHP; Geared Turbines, 4 screws.
---
Speed, 35 Knots
---
Crew 458.
---
Operational and Building Data.Keel laid on 13 DEC 1918 at Seattle Construction & Dry Dock Co., Seattle WA.
---
Launched by Todd Dry Dock & Construction Co. Seattle, WA on 24 MAR 1921.
---
Commissioned 20 JUN 1923
---
Transferred on loan to Soviet Union on 20 APR 1944.
---
Transferred back to United States on 16 MAR 1949
---
Decommissioned 18 MAR 1949
---
Stricken 18 MAR 1949.
---
Fate: Sold for scrap 10 DEC 1949 to American Shipbreakers, Inc., Wilmington, DE
---
MILWAUKEE, Capt. Forest B. Royal, was in New York Navy Yard for overhaul when Japan struck. Departing New York 31 December 1941, MILWAUKEE escorted a convoy to the Caribbean and arrived Balboa 31 January 1942, transited the Panama Canal, and escorted eight troop transports to the Society Islands. Returning to the Atlantic through the canal 7 March 1943, CRUISER Milwaukee stopped at Trinidad en route to Recife, Brazil, where she joined the South Atlantic Patrol Force.
---
For the next 2 years Milwaukee made repeated patrols from ports of Brazil, steaming from the border of French Guiana, down to Rio do Janeiro, and across the Atlantic Narrows almost to the African coast. On 19 May 1942 while steaming from Ascension Island toward Brazil, she received SOS signals from SS Commandante Lyra, and sped to the assistance of the Brazilian merchantman, torpedoed by a German U‑boat off the coast of Brazil.
---
On reaching the scene that morning, Milwaukee found Commandante Lyra abandoned, burning forward and aft, and listing to port. Destroyer Moffett (DD‑362) picked up 16 survivors and Milwaukee rescued 25 others, including the ship's master. Cruiser Omaha(CL‑4) and destroyer McDougal (DD‑358) were soon on the rescue scene. While Milwaukee refueled at Recife, Omaha's salvage, party jettisoned deck cargo and ready ammunition for deck guns from the burning Brazilian merchantman. Milwaukee immediately returned to the scene.
---
Her salvage party jettisoned cargo, to lighten the Brazilian. The fires were brought under control as Commandante Lyra was towed towards Fortaleza, Brazil, arriving 24 May. Milwaukee put out of Recife 8 November 1942 in company with cruiser Cincinnati (CL‑6) and destroyer Somers (DD‑381) seeking German blockade runners.
---
On 21 November 1942 the task force encountered a strange ship which turned out to be the German blockade runner Anneliese Essberger. Milwaukee challenged the unidentified ship who replied with the call letters L‑J‑P‑Y, the international call of Norwegian freighter Sjhflbred. The Allied secret identification signal brought no reply. The two American cruisers maneuvered to cover destroyer Somers chasing the enemy into a small rain squall. At 0651, when Somers had closed to 4 miles, smoke and flames poured from the enemy who lowered boats.
---
Minutes later the first of three tremendous explosions hurled wreckage hundreds of feet in the air and the freighter settled by the stern. Then the Norwegian flag was hauled down and the German merchant swastika flag was raised at the main. The German motorship heeled over to port and sank by the stern. Milwaukee took aboard 62 prisoners from four liferafts.
On the morning of 2 May 1943 while Milwaukee was under repairs at Recife, her crew showed great initiative and skill fighting a fire on tanker SS Livingston Roe which threatened the harbor. Milwaukee continued her South Atlantic patrols until 8 February 1944 when she departed Bahia, Brazil, for the New York Navy Yard.
---
DANFS DICTIONARY OF AMERICAN NAVAL FIGHTING SHIPS
---
OTHER ARTICLES YOU MAY FIND SIMILAR