U S NAVY 4th FLEET AT RECIFE - SHIP INDEX CL CG CP CVE
12)CVE 29 SANTEE
---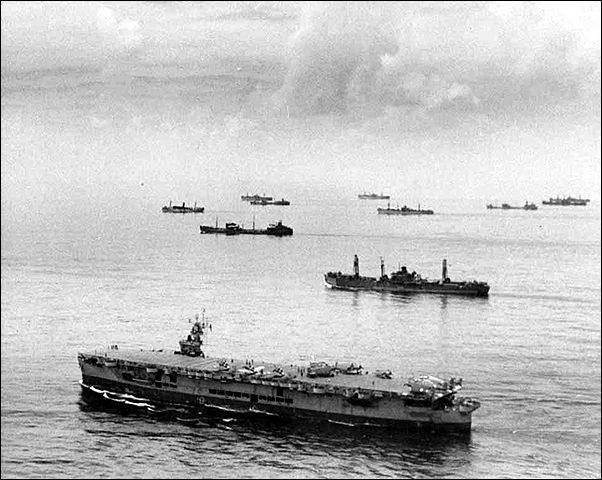 ---
Photo. US Naval Historical Center USNHC
---
Displacement (design): 11,400 tons standard; 24,275 tons full load.
---
Dimensions: 525' x 75' x 30' 7.5" (full load) / 160 x 22.9 x 9.3 meters, 553' x 114' 3" / 168.6 x 34.8 meters.
---
Power plant: 4 boilers (450 psi); 2 steam turbines; 2 shafts; 13,500 shp (design)
---
Speed: 18+ knots.
---
Endurance: 23,920 nm @ 15 knots (with 4,780 tons of oil fuel)
---
Armament: 2 single 5"/51 gun mounts; 4 twin 40-mm/56-cal gun mounts; 12 single 20-mm/70-cal gun mounts.
---
Aircraft: 25. Aviation facilities: 2 elevators; 1 hydraulic catapult
---
Crew: 830 (ship's company + air wing)
---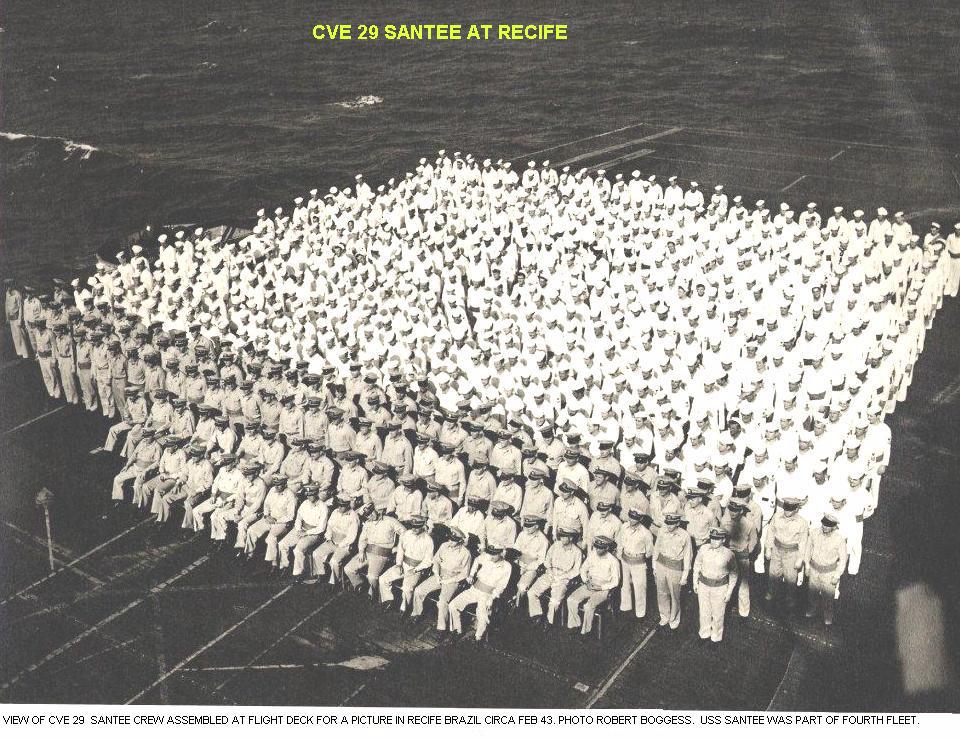 ---
On 1 January 1943, SANTEE anchored at Port of Spain, Trinidad. Two days later, with destroyers EBERLE and LIVERMORE (DD-429), she headed for the coast of Brazil. After disembarking passengers at Recife, she sailed to join Task Unit 23.1.6 at sea in tightening the noose on enemy merchant shipping and naval activity in the south Atlantic. For a month, her planes flew antisubmarine missions and regular patrols.
---
On 15 February, the escort carrier put in at Recife, remaining until the 21st. Back conducting routine sorties in the same manner, SANTEE operated from 21 February through 2 March when she again put in to Recife. Her next period at sea, which began on 4 March, brought action. On 10 March, light cruiser SAVANNAH (CL-42) and EBERLE were investigating a cargo liner which had been spotted by SANTEE's aircraft and which had been tentatively identified as the KARIN, a Dutch merchantman.
---
It turned out to be the German blockade runner KOTA NOPAN (ex-Dutch KOTA PENANG). As the EBERLE boarding party drew alongside, explosives placed by the abandoning crew detonated, killing eight boarders. On 15 March, SANTEE set out for Norfolk and anchored at Hampton Roads on the 28th.
---
DANFS DICTIONARY OF AMERICAN NAVAL FIGHTING SHIPS
---
OTHER ARTICLES YOU MAY FIND SIMILAR