U S NAVY 4th FLEET AT RECIFE - SHIP INDEX CL CG CP CVE
10)CVE 64 TRIPOLI
---
---
Photo. www.navsource.org
---
Displacement 7,800 Tons.
---
Dimensions, 512' 3" (oa) x 65' 2" x 22' 4" (Max)
---
Armament 1 x 5"/38AA 8 x 40mm, 12 x 20mm
---
27 Aircraft.
---
Machinery, 9,000 IHP; 2 Skinner, Uniflow engines, 2 screws
---
Speed, 19 Knots
---
Crew 860.
---
After providing air cover for a convoy routed to the British West Indies, Tripoli's covey of Wildcats and Avengers searched the sea lanes northwest, southwest, and west of the Cape Verdes before putting into Recife, Brazil, on 5 April to refuel and provision. Back at sea again two days later, Tripoli continued the routine of daily launchings and recoveries of her planes, guarding the Allied sea lanes against the incursions of enemy U-boats.
---
Following her return to Norfolk on 18 June, Tripoli spent two months in carrier qualification training off Quonset Point, R.I., before making port again at Norfolk on 15 July. Embarking Composite Squadron 6, she conducted two weeks of pilot qualifications in the Chesapeake Bay area before departing Hampton Roads on 1 August, bound for her new base of operations, Recife. Screened by O'Toole (DE-527) and Edgar G. Chase (DE-16), the escort carrier proceeded south until 1 August, when O'Toole developed a sonar contact and gave chase.
---
Tripoli's planes laid patterns of sonobuoys at the initial point and dropped smoke floats and float lights on an oil slick. Picking up the "scent," O'Toole straddled the floats with her hedgehog projectiles and depth charges and soon radioed victoriously "We hit the rodent!" A brief visual examination of the evidence—debris and a large quantity of diesel oil—satisfied the hunter-killer group that they had indeed sunk an enemy submarine.
---
However, a post-war examination of German records did not confirm the kill. As night fell, Tripoli vectored two planes to another sonar contact by O'Toole, and four depth bombs thundered—thrashing the sea, keeping another U-boat down and running.Tripoli and her group then returned to Recife on 13 August and reported for duty with Admiral Jonas H. Ingram's 4th Fleet. Designated as the center of TG 47.7, the escort carrier put to sea on 22 August with the four destroyer escorts of CortDiv 24 to operate against a homeward-bound German submarine estimated to pass at 25° south latitude and 5° west longitude.
---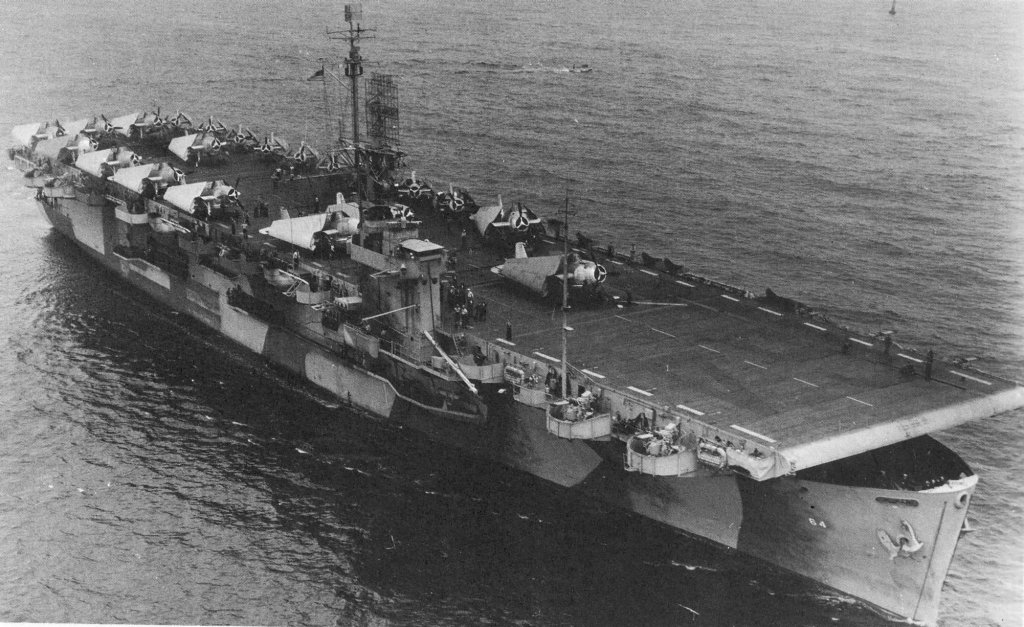 ---
USS Tripoli seen when departing Hampton roads with 12 Avengers and 9 Wildcats on her deck in May 1944. Photo. www.navsource.org.
---
DANFS DICTIONARY OF AMERICAN NAVAL FIGHTING SHIPS
---
OTHER ARTICLES YOU MAY FIND SIMILAR