U S NAVY 4th FLEET AT RECIFE - SHIP INDEX AM AO AP ARS AS AT
21)AVP 29 ROCKAWAY
---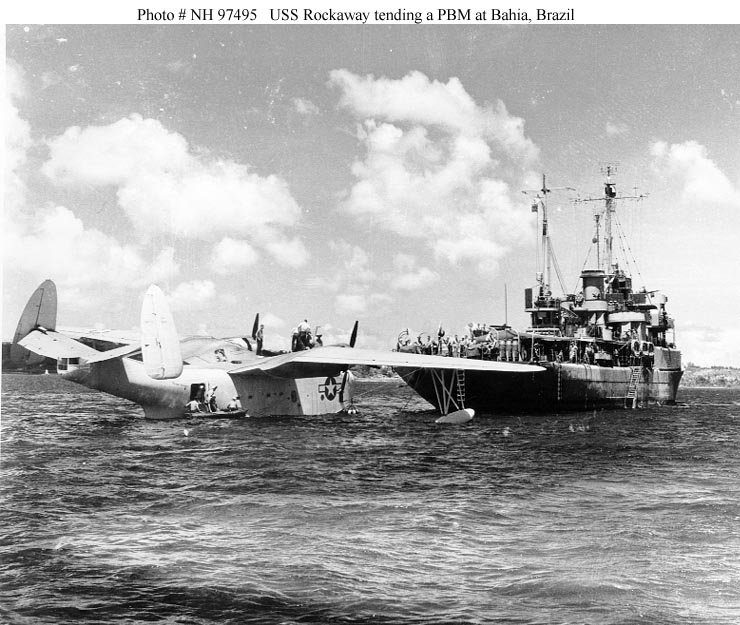 ---
Photo. www.navsource.org
---
AVP 29 tending one PBM Mariner at Bahia Brazil probably 1943
---
Specifications:
---
Displacement 1,766 t.(lt) 2,750 t.(fl)
---
Length 311' 8".
---
Beam 41' 1".
---
Draft 13' 6".
---
Speed 18.6 kts.
---
Complement 215.
---
Armament: One single 5"/38 dual purpose gun mount, one quad 40mm AA gun mount, two dual 40mm AA gun mounts, four dual 20mm AA gun mounts.
---
Largest boom capacity: 10 t.
---
Ship"s Service Generators: Two diesel-drive 100Kw 450V A.C., two diesel-drive 200Kw 50V A.C.
---
Fuel Capacities: Diesel 1,955 Bbls. Gasoline 84,340 Gals.
---
Propulsion: Two General Motors 12-288 diesel engines, Single Fairbanks Morse Main Reduction Gear. Two shafts, 6,080 shp.
---
Following shakedown, the seaplane tender Rockaway became a unit of the Atlantic Fleet, with home base at Norfolk, Va., in April 1943. The next 18 months were busy and eventful ones, during which she delivered essential supplies and personnel to outlying bases in the North Atlantic. She transferred a complete squadron from Newfoundland to England, carried aviation cargo from Norfolk to the Ranger at Scapa Flow, delivered secret radar equipment to England to be used in the Normandy invasion, performed guard duty at Casablanca for 2 months, and transported aircraft engines to the Azores.
---
She completed nine round trips, steaming independently, across the Atlantic during this interval. On several occasions, she made submarine contacts and dropped depth charges with undetermined results. During the invasion of France in June 1944, Rockawayperformed sundry duties for 20 days; patrol and convoy work in the English Channel, flagship duty for Adm. J. Wilkes USN, transportation of Army and Navy personnel and protection of Allied beachheads against enemy air attacks.
---
After a navy yard period in November, Rockaway was based in the Panama Canal Zone, completing two trips to the Galapagos Island with aviation supplies and personnel. In December she rescued 13 survivors from a PBM which had crashed off Coco Solo.
---
On 21 February 1945, Rockaway, while steaming to Recife Brazil, located and guarded a disabled tanker for 3 days until a fleet tug arrived on the scene. Duties during the following 5 months, spent in Brazil, entailed supplying the various naval bases from Belem to Bahia with essential men and equipment.
---
DANFS. DICTIONARY OF AMERICAN NAVAL FIGHTING SHIPS
---
OTHER ARTICLES YOU MAY FIND SIMILAR