U S NAVY 4th FLEET AT RECIFE - SHIP INDEX AD AE AF AG AK AKS
4)AG 49 ANACAPA
---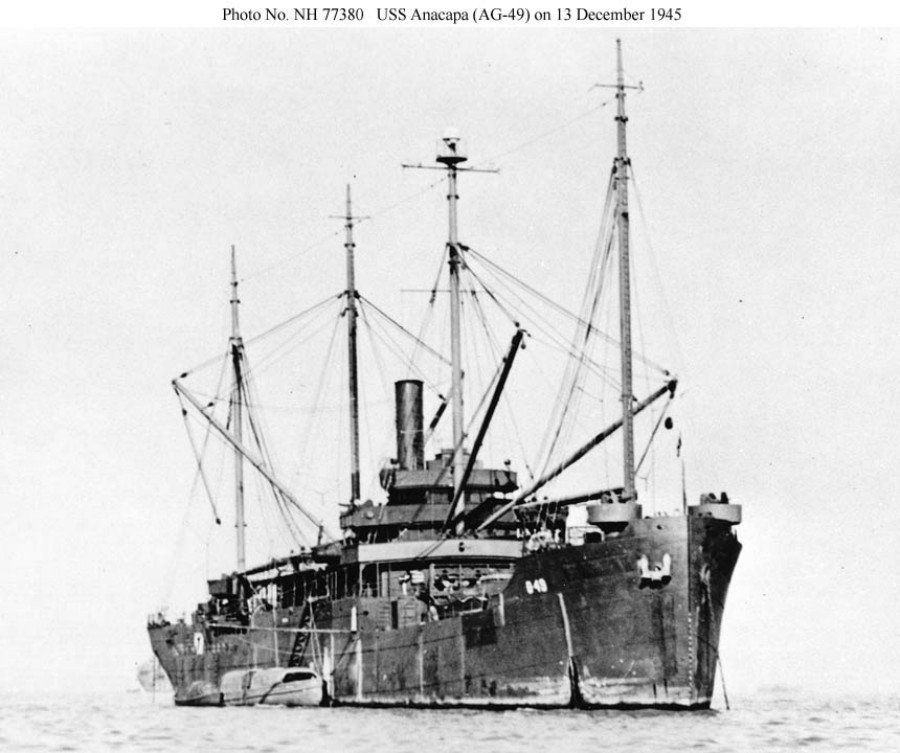 ---
Photo. www.navsource.org By Robert Hurst
---
Displacement 7,420 t.(fl)
---
Length 335' 3"
---
Beam 49' 10"
---
Draft 20' 5"
---
Speed 8kts
---
Complement 155
---
Armament two single 4" gun mounts, two single 3"/50 gun mounts; five 20mm guns, one depth charge projector
---
Propulsion, triple expansion reciprocating steam engine, single screw, 1,650shp.
---
In the authoritative Brazilian Navy History Book, AG-49 Anacapa is mentioned as one US Navy ship which was in the South Atlantic in commission without effective subordination to the Fourth Fleet.
---
Built in 1919 at Pusey and Jones Corp., Wilmington, DE., as Coos Bay for the Coos Bay Lumber Co., San Francisco, CA.; Acquired by the Navy, 20 June 1942; Converted for Naval service as a "Q"-ship at the Naval Repair Base San Diego, CA; Commissioned, USS Anacapa (AG-49), 31 August 1942; Decommissioned, 21 March 1946, at Mare Island Navy Yard, Vallejo, CA; Struck from the Naval Register, (date unknown); Transferred to the Maritime Commission, 12 August 1946, for disposal; Final disposition, refitted and returned to merchant service, fate unknown.
---
OTHER ARTICLES YOU MAY FIND SIMILAR