U S NAVY 4th FLEET AT RECIFE - SHIP INDEX AD AE AF AG AK AKS
2)AE 2 NITRO
---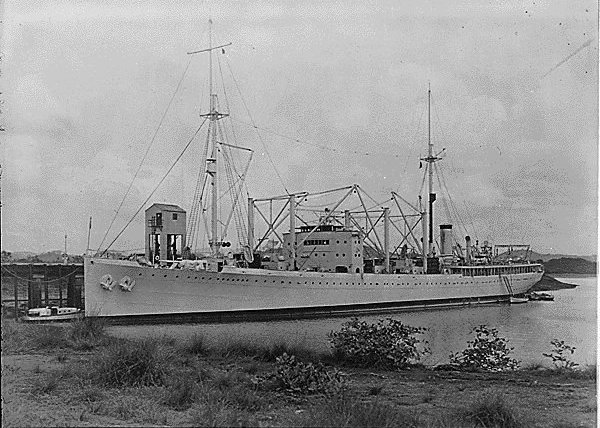 ---
Photo. www.navsource.org by Joe Radigan MACM US NAVY Ret.
---
Laid down, 19 March 1919, at Puget Sound Navy Yard, Bremerton, WA.
---
Launched, 16 December 1919.
---
Commissioned USS Nitro (AE-2), 1 April 1921, CDR. R. W. Vincent in command.
---
Decommissioned, 30 November 1945, at Norfolk, VA
---
Laid up in the Atlantic Reserve Fleet.
---
Struck from the Naval Register (date unknown)
---
Transferred to the Maritime Commission for disposal, 30 March 1948
---
Final Disposition, sold for scrapping, 19 September 1949, to Welding Shipyards, Inc., New York.
---
USS Nitro received one battle star for World War II service.
---
Specifications:
Displacement 7,025 t.(lt) 10,600 t.(fl)
---
Length 482' 9".
---
Beam 60' 11".
---
Draft 20' 11".
---
Speed 16 kts.
---
Complement 226.
---
Armament: four single 5"/38 dual purpose gun mounts, two single 3"/50 dual purpose gun mounts
Propulsion type unknown.
---
With Norfolk her home port at the beginning of World War II, the veteran ammunition ship carried ammunition to the Caribbean bases and to Recife, Brazil, base for the South Atlantic patrols. USS Nitro (AE-2) made at least 3 or 4 trips to Recife, Brazil, stopping at Guantanamo Bay, Cuba or Puerto Rico. She would take a load of ammunition and supplies to Recife for South Atlantic patrols and later the planes would fly it to the Ascension Island half way across to Casablanca for troops fighting in Northern Africa, Egypt and Algeria.
---
On the return trips, she eventually was loaded up with coffee and raw sugar for Baltimore, stopping at Venezuela, Trinidad, Puerto Rico or Cuba. From Baltimore back to Norfolk, Va. and load up again with ammo.She sailed 20 April 1944 for Belfast, Northern Ireland, with ammunition for the invasion of Europe.
---
OTHER ARTICLES YOU MAY FIND SIMILAR