- U S SHIPS R / S
5)ROGER B TANEY U-160
---
---
---
Above Transport vessel Roger B. Taney, number 11 of Liberty type at Bethlehem-Fairfield Shipyard Inc. Baltimore in Baltimore after launching.
Photo. https://albumwar2.com/wp-content/uploads/2019/08/08077.jpg
---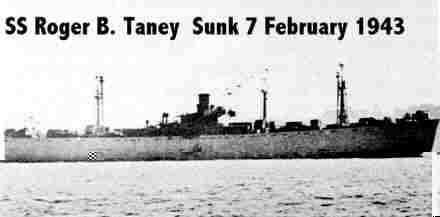 ---
Photo www.armed-guard.com
---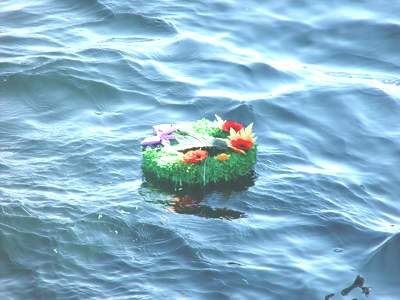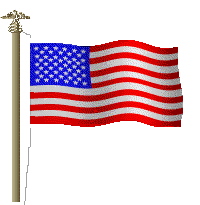 ---
Built: 1942
---
Tonnage: 4,389 / 7,191 tons
---
Cargo: Ballast
---
Sunk 08 Feb 43 by U-160 on pos. 22º00"S 07º45"W
---
2 Dead
---
55 Survivors
---
At 00.13 hours on 8 Feb, 1943, the unescorted Roger B. Taney (Master Thomas James Porter) was hit by a torpedo from U-160 in the South Atlantic. At midnight a lookout had spotted a torpedo wake passing 20 yards ahead of the bow and the ship made a 90° turn but the U-boat was able to follow. The torpedo struck on the starboard side at the engine room, killed one officer and two crewmen on watch below, ruptured the steam lines, stopped the engines, started a fire in the midship house and destroyed two lifeboats.
---
The 19 armed guards (the ship was armed with one 4in, one 3in, four .50cal and two .30cal guns) fired five rounds in the direction of the torpedo track and remained on board when the eight officers, 29 crewmen and one passenger abandoned ship in two lifeboats about 20 minutes after the hit. At 02.33 hours, a coup de grâce was fired that hit the #4 hold and caused a tremendous explosion. The armed guards now abandoned ship on two rafts and were picked up by the boats at dawn. The U-boat surfaced and the Germans questioned the survivors before leaving the area.
---
The boats tried to stay together but became separated after 36 hours. The 15 crew members and 13 armed guards in one boat were picked up on 1 March by the British steam merchant Penrith Castle and landed at Bahia four days later. The master, 16 crew members, nine armed guards and one passenger in the other boat were picked up on 22 March by the Brazilian merchant Bagé about ten miles of the coast of Brazil between Rio de Janeiro and Santos after sailing more than 2000 miles.
---
By www.uboat.net
---
OTHER ARTICLES YOU MAY FIND SIMILAR