---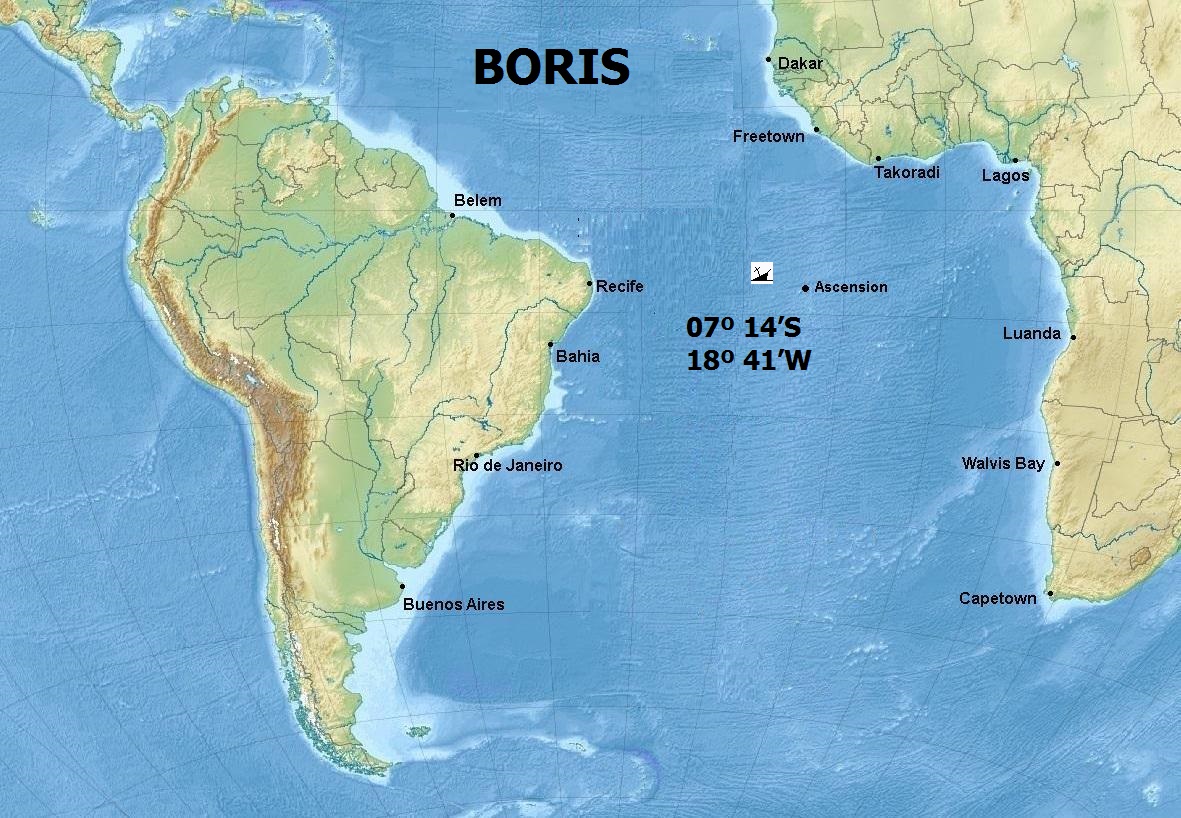 ---
---
Photo.www.uboat.net
---
---
Built: 1917
---
Tonnage: 5,166 / 8,050 tons
---
Cargo: 2,975 tons of general cargo, including bauxite, castor seed and poplar wood.
---
Route: Santos - Freetown - Belfast.
---
Sunk 03/06/43 by U-180 on pos 07º 14'S 18º 41'W
---
O Dead
---
37 Survivors
---
Completed in December 1917 as British War Heather for The Shipping Controller, managed by Glen & Co Ltd, Glasgow. 1919 sold to Belgium and renamed Menapier for Lloyd Royal Belge SA, Antwerp. 1932 sold to Compagnie Maritime Belge (Lloyd Royal) SA, Antwerp. 1933 sold to Greece and renamed Boris for Société Commericale de Maritime Vlasov, Syra. 1935 sold to Société Commerciale et d'Armement SA, Piræus.
---
At 23.40 hours on 3 June 1943 the unescorted Boris (Master Elios Los) was hit in #1 hold by one of three torpedoes from U-180 while steaming on a non-evasive course at 7 knots about 260 miles west of Ascension Island. The U-boat had followed the ship almost seven hours because they had to radio the BdU first for an attack permission as the vessel was in an area used by blockade runners. The master, 35 crew members and one British gunner (the ship was only armed with several machine guns) immediately abandoned ship in two lifeboats after the hit without sending distress signals. However, the ship remained afloat on her cargo of wood and eventually sank by the bow after being hit by two coups de grâce at 23.52 hours.
---
The Germans questioned the chief officer in one of the boats before leaving the area. In the afternoon on 14 June, the chief and second officer, the chief and third engineer, the British gunner and eleven other crew members were picked up from their boat by the British cable ship Cambria about 15 miles east of Pernambuco and landed there.
---
---
Above the Cable ship Cambria. Photo. http://atlantic-cable.com/Cableships/Cambria/CS-Cambria-SK.jpg
---
On 17 June, the master and 20 crew members were picked up by the Spanish steam passenger ship Cabo de Buena Esperanza and landed in Rio de Janeiro two days later.
---
By www.uboat.net
---
---
Above the spanish steamer Cabo de Buena Esperanza which rescued the master and 20 members of the Greek Boris
Photo. http://www.naviearmatori.net/albums/userpics/12569/1367862894.jpg
---