SHIPS SUNK CANADA 8 - CANADIAN SHIPS LOST
1)CANADOLITE (RAIDER KORMORAN)
---
---
---
Photo. www.aukevisser.nl by John Westmar
---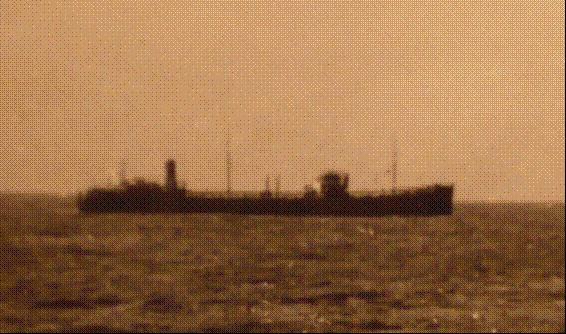 ---
Canadolite seen upon her capture by Kormoran
---

---
Built 1926
---
Tonnage: 11,309 / 16,000 tons
---
Cargo: Ballast
---
Sunk 25/03/41 by raider Kormoran on pos. 05º 00"N 33º 00"W.
---
Crew of 41 taken as POW
---
The 11,309-ton (German-built) Canadian tanker Canadolite was taken as a prize ship, with a German crew taking the ship and her 44 sailors to Bordeaux, France, while the four officers were imprisoned aboard Kormoran. After the captured tanker left, it was realised recognition signals to avoid Luftwaffe attack had not been supplied, and Kormoran raced to meet the tanker when she rendezvoused with the supply ship Nordmark.
---
The raider met the supply ship on 27 March, but it appeared Canadolite had enough fuel to reach France and had chosen to sail straight there. Two U-boats were scheduled to reach the rendezvous point for resupply; Captain Detmers suggested he meet U-105, which was carrying more white metal for Kormoran's engines, while Nordmark focused on U-106. The commanding officer of U-105 agreed to transmit a warning to Germany regarding Canadolite once the U-boat had left the rendezvous point, which did not occur until six days later because of equipment problems delaying the replenishment. The tanker arrived safely on 13 April, was renamed Sudetenland and remained operational until her sinking by the Royal Air Force in 1944 at Brest.
---
By https://en.wikipedia.org/wiki/German_auxiliary_cruiser_Kormoran
---
OTHER ARTICLES YOU MAY FIND SIMILAR