SHIPS HIT GERMANY 25* - BLOCKADEBRECHER
9)DOGGERBANK U-43
---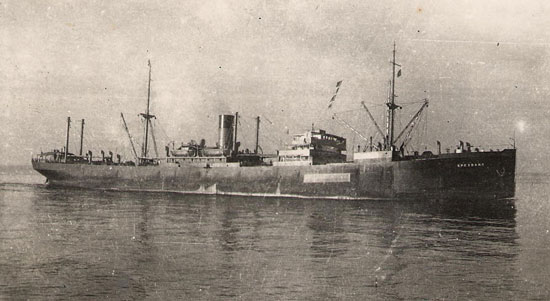 ---
Photo. https://upload.wikimedia.org/wikipedia/commons/5/57/Speybank_Doggerbank.jpgw
---
Built: 1926
---
Tonnage: 5,154 Grt / 8,876 Dwt
---
Cargo::7,000 tons of raw materials including mines, U-boat supplies, rubber, fats and fish oil.
---
Sunk 03/Mar/43 in error by U-43 in pos 29º 10"N 34º 10"W
---
364 Dead
---
1 Survivor
---
The German ship Doggerbank (Schiff 53) was an auxiliary minelayer and blockade runner of Nazi Germany in World War II.
---
Laid down as the UK merchant vessel Speybank in 1926, the vessel was captured in 1941 by the German auxiliary cruiser Atlantis, converted to an auxiliary minelayer for the Kriegsmarine and renamed Doggerbank. After laying mines off the coast of South Africa, it travelled to Japan. On the return trip, it was accidentally sunk by the German submarine U-43, with all but one of the 365 men on board (108 crew plus 257 prisoners-of-war) lost at sea
---
Speybank was built in 1926 at Harland & Wolff at Govan, Glasgow for Andrew Weir & Co. The ship was captured on 31 January 1941 by German auxiliary cruiser Atlantis in the Indian Ocean. Speybank was sent back to France under the command of Paul Schneidewind and reached Bordeaux on 10 May 1941.
---
The ship was taken over by the German Kriegsmarine in 1941, renamed Doggerbank – Schiff 53 (German: "Ship 53"), and converted to an auxiliary minelayer. It remained under the command of Kapitänleutnant Paul Schneidewind.
---
In Japan, Doggerbank took aboard many of the survivors of the auxiliary cruiser Thor and the German tanker Uckermark, the former Altmark, which had been destroyed in an accident in Yokohama on 30 November 1942. In total, the ship carried 365 men on board when leaving the Far East. It also carried a cargo of 7,000 tons of raw materials and rubber, fats and fish oil.
---
DOGGERBANK IN ACTION IN SOUTH ATLANTIC
---
On 13 March 1943 Doggerbank laid sixty mines off Capetown South Africa. The first ship to fall victim to Doggerbank's mines was the Dutch SS. Alcyone (4534 tons, built in 1921), enroute from Hull to Bombay and Karachi. Her cargo of military stores consisted, among other things, of 1,600 tons of aircraft bombs and 9 aircraft stored on deck.
---
The ship travelled via Kobe, Saigon, Singapore and Jakarta, which it left on 10 January 1943, heading to France. In the mid-Atlantic on 3 March 1943, at 9.53 pm, it was torpedoed by German submarine U-43. U-43 mistook it for a British ship "of the Dunedin Star type" as Doggerbank was traveling ahead of its schedule. The ship was hit by all three torpedoes fired at it and sank within two minutes, with perhaps two hundred men killed instantly.
---
U-43 observed five life boats being launched by the ship and attempted to make contact with the survivors, but failed to get close enough because of the darkness. Unaware of the ship's sinking as it had been unable to send a distress signal, the German admiralty took days to realise the ship had been lost.
---
The eventual sole survivor of the crew of 108 and the 257 prisoners-of-war on board, Fritz Kürt, was in Doggerbank's jolly boat, together with the ship's captain, Schneidewind, a small number of other men and the ship's dog. The boat headed for the South American coast, approximately three weeks away. Through suicide and accidents, the small crew was eventually reduced to two, Kürt and an old sailor by the name of Boywitt, the captain having shot himself and the ship's dog having drowned. Desperate for water and food, Boywitt drank sea water on the 19th day of their journey and died, while Kürt was too weak to even roll the dead body overboard. Kürt was eventually picked up by the Spanish motor tanker Campoamor on 29 March and taken to Aruba.
---
The German submarine U-43 was sunk on 30 July 1943 without survivors. Kürt was exchanged in a prisoner-of-war swap in 1944, reported back to the German admiralty and then hid in Hamburg until the end of the war, having been about to be arrested.
---
By https://en.wikipedia.org/wiki/German_ship_Doggerbank
---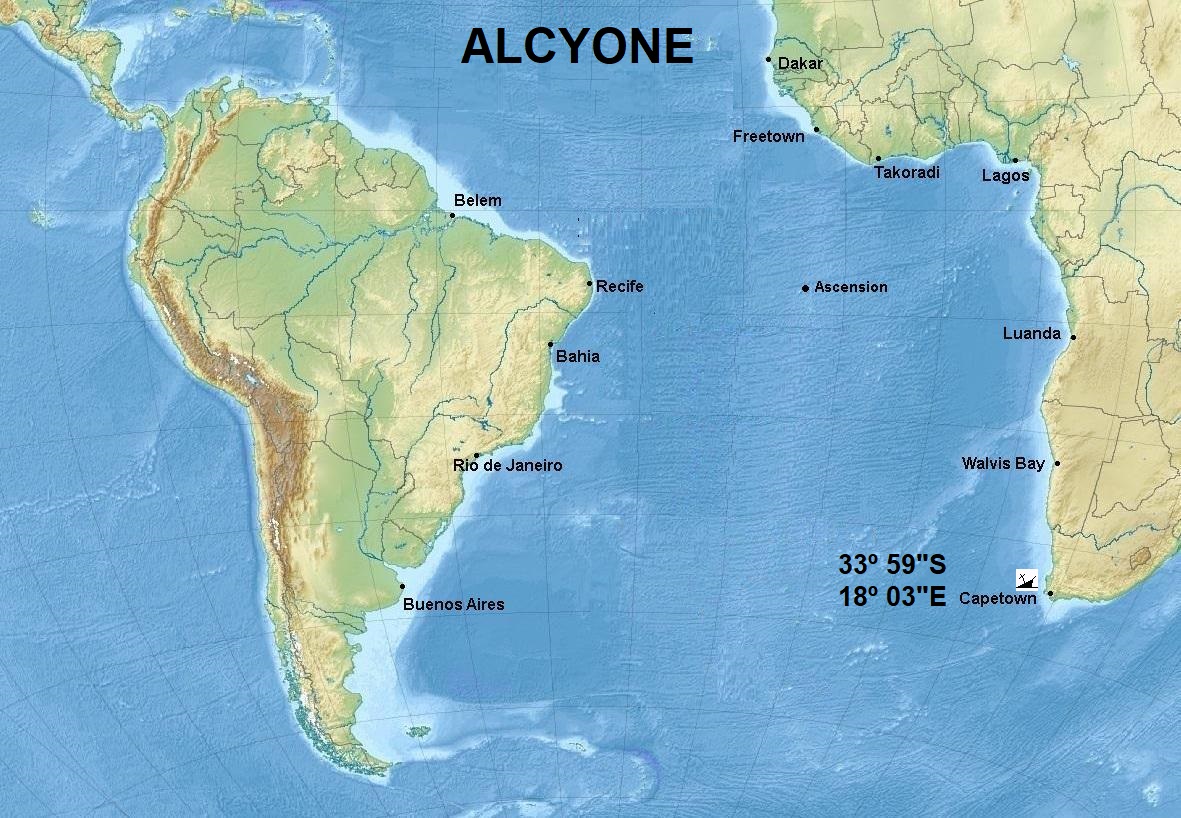 ---
---
ALCYONE - DUTCH
---
---
---
SOUDAN - BRITISH
---
OTHER ARTICLES YOU MAY FIND SIMILAR