- THOR
13)WILLESDEN
---
---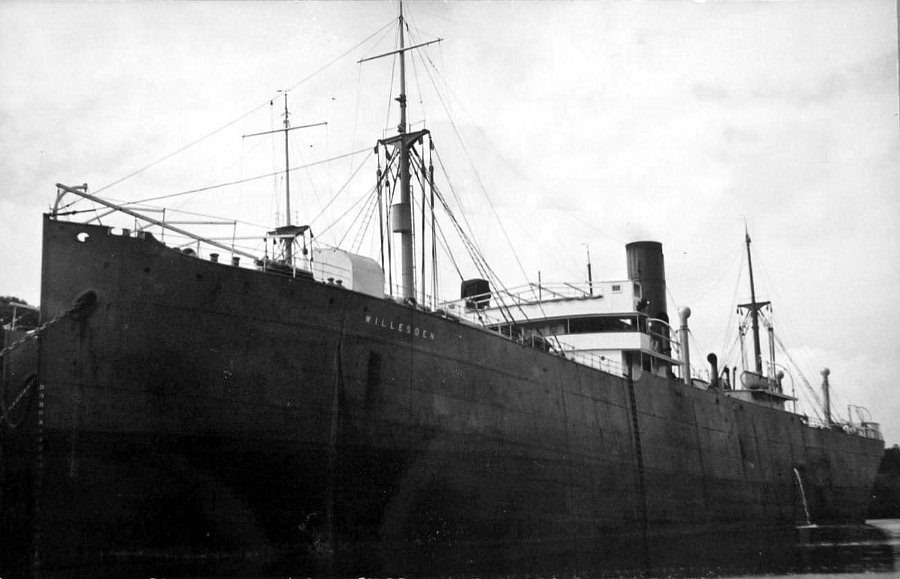 ---
Photo. www.photoship.co.uk
---
Built: 1925
---
Tonnage: 4,563 / 8,600 tons
---
Cargo: War supplies to 8th Army including aircraft and tank spare parts, ammunition, heavy machinery, tents, food and clothing in addition to 450 drums of diesel oil and aviation fuel on deck.
---
Route: New York – Table Bay - Alexandria
---
Sunk 01/04/42 by Raider Thor on pos. 16º 00'S 16º 00" W
---
5 Dead
---
42 POW
---
The Willesden a 4,565-ton British freighter bound for Alexandria from New York was picked up by the raider's Arado on the morning of April 1, but the plane was fired upon as it tore away the aerial and dropped its two bombs, both of which missed.
---
The British gunners also returned fire as Thor opened up with her 5.9-inch guns, setting the freighter's deck cargo of oil drums alight, and the rest of their shipmates took to the boats. But they could only manage six shots before they too had to leave the blazing ship, into which Thor had pumped 128 shells.
---
One torpedo later, the 12-hour action was over, leaving one of Willesden's crew dead and six wounded. One of the wounded later died of his injuries and was laid to rest at sea with full military honours.
---
By https://www.bismarck-class.dk/hilfskreuzer/thor.html
---
OTHER ARTICLES YOU MAY FIND SIMILAR