RAIDER KORMORAN 7 SHIPS SUNK - KORMORAN
1)RAIDER KORMORAN
---
---
Photo https://www.bismarck-class.dk/hilfskreuzer/kormoran.html
---
Built 1938
---
Tonnage 19,900
---
Complement 397
---
Aircrafts 2 Arado Ar 196 Seaplanes
---
The German auxiliary cruiser Kormoran (HSK-8) was a Kriegsmarine (German Navy) merchant raider of World War II. Known to the Kriegsmarine as Schiff 41, to the Allied navies she was Raider G. Kormoran is known best for the sinking of Australian light cruiser HMAS Sydney with all 645 crew in November 1941, during a battle offWestern Australia, in which Kormoran was also destroyed. Following many years of speculation and searches, on 16 March 2008, Australian Prime Minister Kevin Rudd announced that Kormoran had been found. The wreck is reported to be 150 kilometers west of Shark Bay
---
The abbreviation HSK comes from Handelsstörkreuzer; German for "commerce disruption cruiser". The ship is sometimes referred to as DKM Kormoran, where DKM stands for Deutsche Kriegsmarine, but the Germans themselves did not use this prefix. Kormoran was built by Germaniawerft of Kiel and launched on 15 September 1938 as the merchant ship Steiermark of HAPAG, the Hamburg-Amerika Line. Renamed Kormoran ( German for Cormorant), she entered service as a Kriegsmarine Auxiliary Cruiser on 9 October 1940, commanded by Korvettenkapitan (Lieutenant Commander) Theodor Detmers. When in service, Kormoran displaced 8,736 tons and had a top speed of 18-19 knots.
---
The ship was a prime example of the relatively successful "disguised freighter" technique used in commerce raiding by the Kriegsmarine in World War Two. The largest of the German raiders, Kormoran operated in the South Atlantic and the Indian Ocean. In common with other auxiliary cruisers, she had substantial (hidden) armament: six 150 mm (5.9 in) guns, torpedo tubes, and seaplanes, but lacked the armor protection, fire control systems and speed of a proper warship.
---
Successful raiding depended on surprise and disguise. On 19 November 1941, theKormoran encountered HMAS Sydney in the Indian Ocean at 26°9′50″S 111°4′25″E, off the coast of Western Australia between Carnarvon and Geraldton. At the time, the German raider was flying a false flag while posing as the Dutch freighter Straat Malakka, with a black hull and black funnel. Captain Detmers hoped to pass by undetected, but Sydney closed in to investigate. The German ship maintained her deception until Sydney was about 1,500 metres (1,600 yd) away, which gave her a better chance of attacking the superior Australian warship.
---
According to the surviving crewmen of Kormoran, the Australian warship was not expecting battle, nor fully prepared for it, as her secondary guns were unmanned and therefore not trained on Kormoran. Taken by surprise, Sydney was hit about 50 times by the raider's 5.9-inch (150 mm) heavy guns before she managed to return fire. Overall, Sydney received approximately 150 hits. A torpedo hit, scored relatively early in the engagement, caused massive damage to the bow of Sydney. The two heavily damaged ships drifted apart and Sydney was last seen by the crew of Kormoran in flames on the horizon.
---
Some of the Kormoran men advised that Sydney had disappeared as they rowed towards it, soon after leaving their own ship, others said it had suffered some kind of explosion and others indicated it was last seen on fire, badly damaged but proceeding in a south easterly direction before disappearing from sight. Sydney had inflicted medium damage to Kormoran, but one hit caused a fire that could not be controlled due to the fire fighting equipment being out of order. With 20 dead and the fire in engine room approaching the mine storage deck, Detmers decided at 18:25 to abandon ship to save as many lives as possible.
---
Explosive charges were placed to scuttle the ship and the surviving crew took to the boats, with Detmers the last to leave. A further 40 men, mostly wounded, lost their lives when their lifeboat capsized in the rough seas. Shortly after midnight, the charges were set; at 00:35, the mines exploded and Kormoran went down rapidly by the stern. Detmers and about 320 of his crew (including 3 Chinese volunteers) were rescued from their lifeboats and liferafts by five ships: Aquitania, Trocas, Koolinda, Centaur and Yandra. A further two lifeboats came ashore just north of Carnarvon at 17 Mile Well.
---
Nearly all spent the remainder of the war in an Australian prisoner of war camp, from which they would not be released until January 1947. The fact that the only survivors of the battle were from the Kormoran has allowed the battle between Sydney and Kormoran to become the subject of much controversy, speculation and conspiracy theory. Eventually, it was realised that Kormoran had inflicted sufficient damage on Sydney for the Australian warship to be lost without survivors.
---
An analysis of the genesis and development of the conspiracies surrounding the loss of Sydney was developed by the Western Australian Museum in response to a request from the 2008 Commission Of Inquiry (COI) into the loss.
---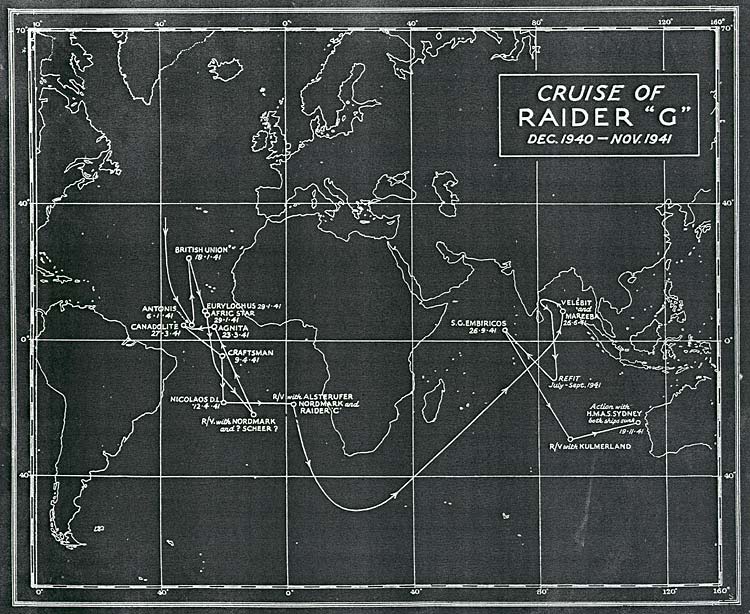 ---
The map above shows the long cruise made by Kormoran throughout Atlantic and Indian Oceans. Photo. http://vrroom.naa.gov.au/print/?ID=19471
---
Raider Kormoran sank 6 ships in the south Atlantic with a total tonnage of 69,934 DWT.
---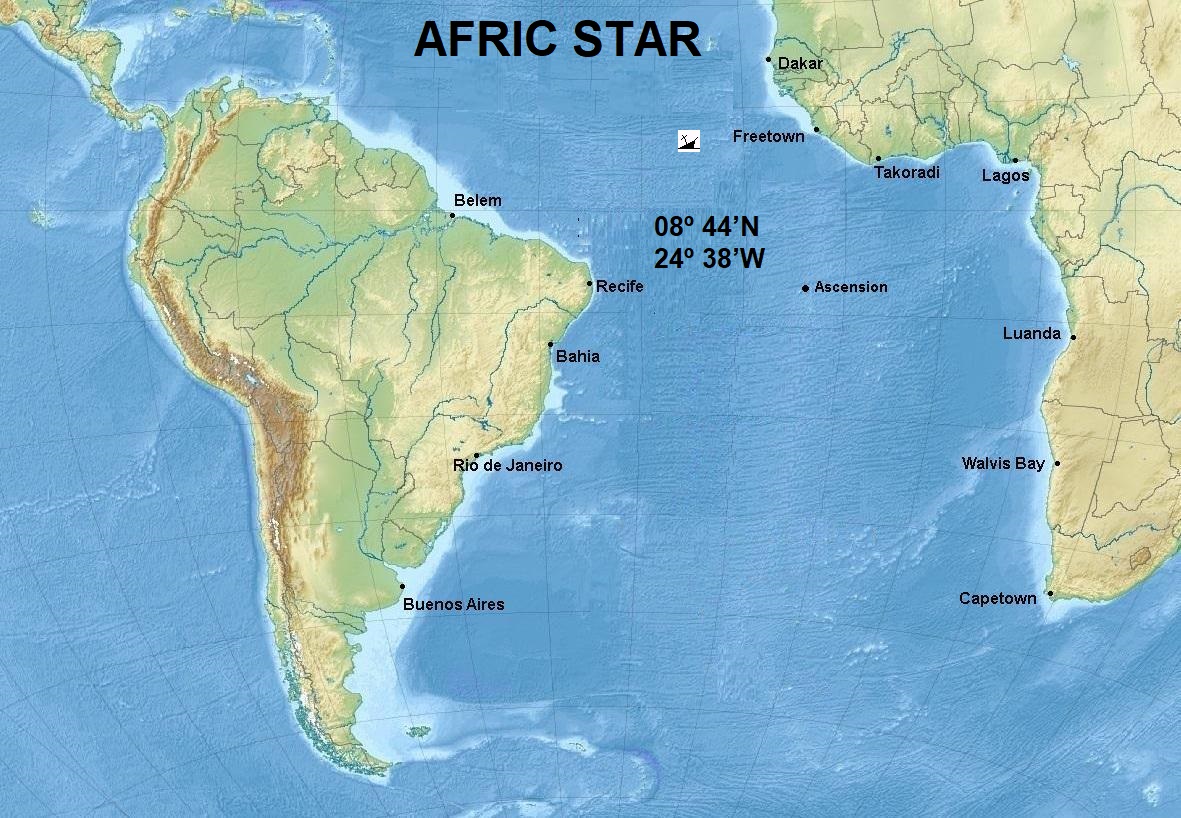 ---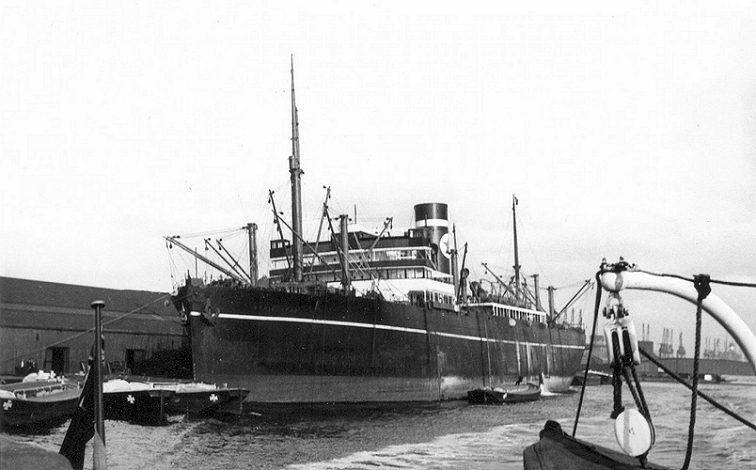 ---
AFRIC STAR
---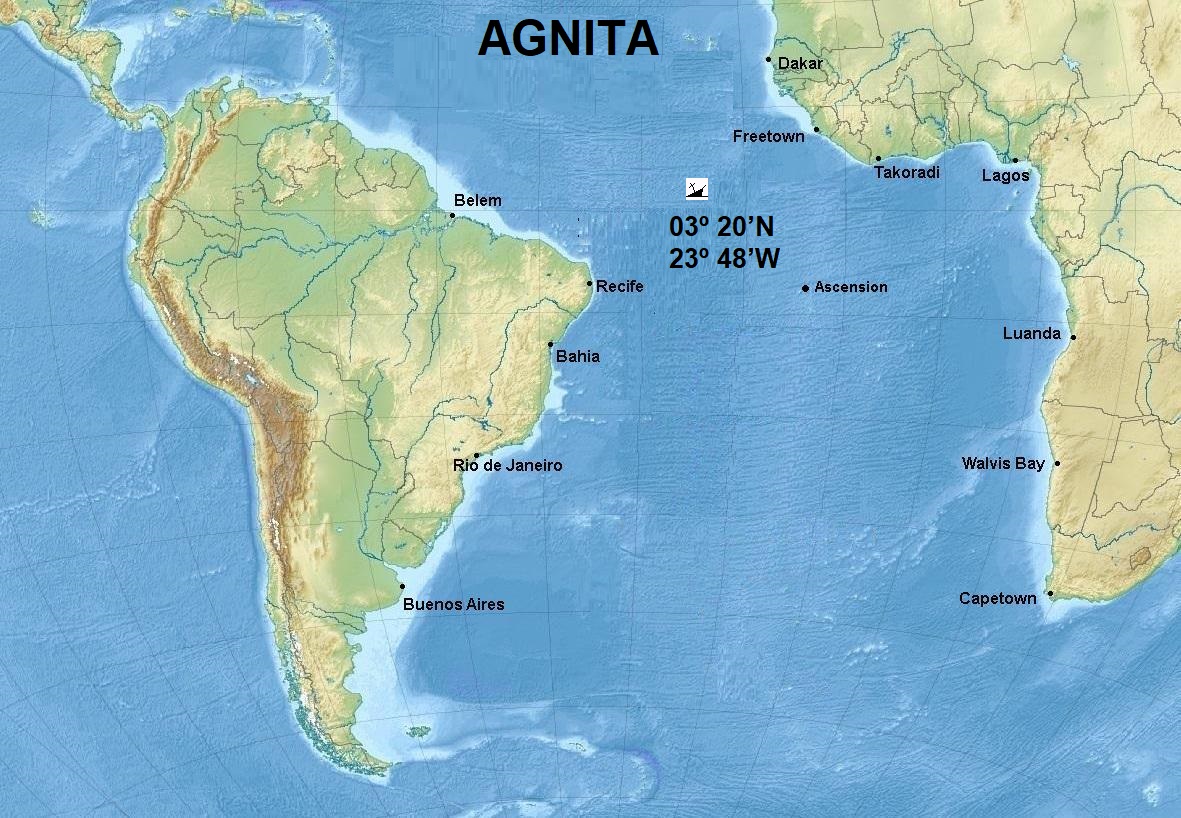 ---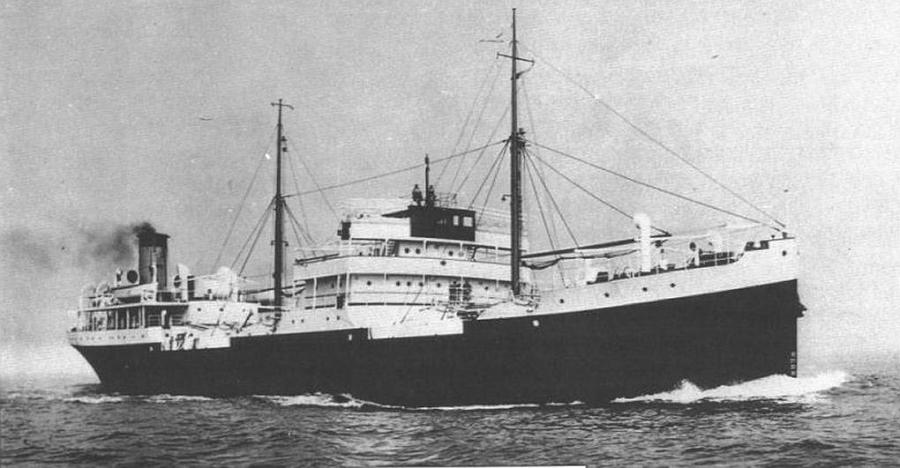 AGNITA
---
---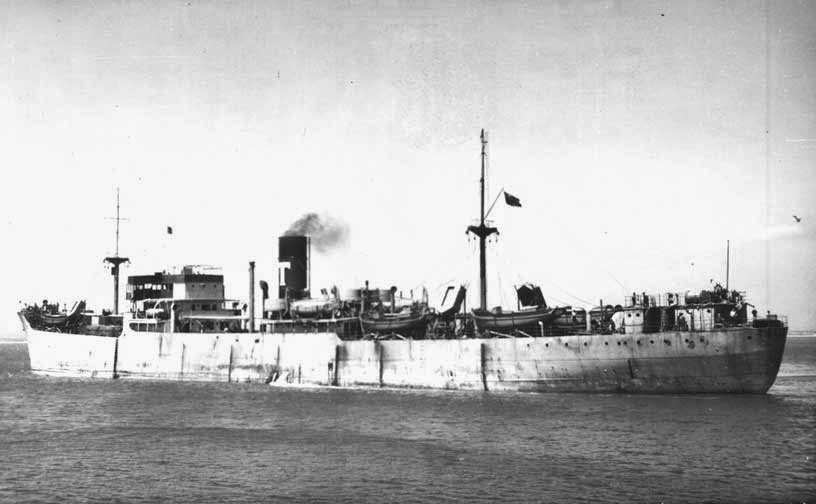 CANADOLITE Sister ship Montrolite
---
---
CRAFTSMAN
---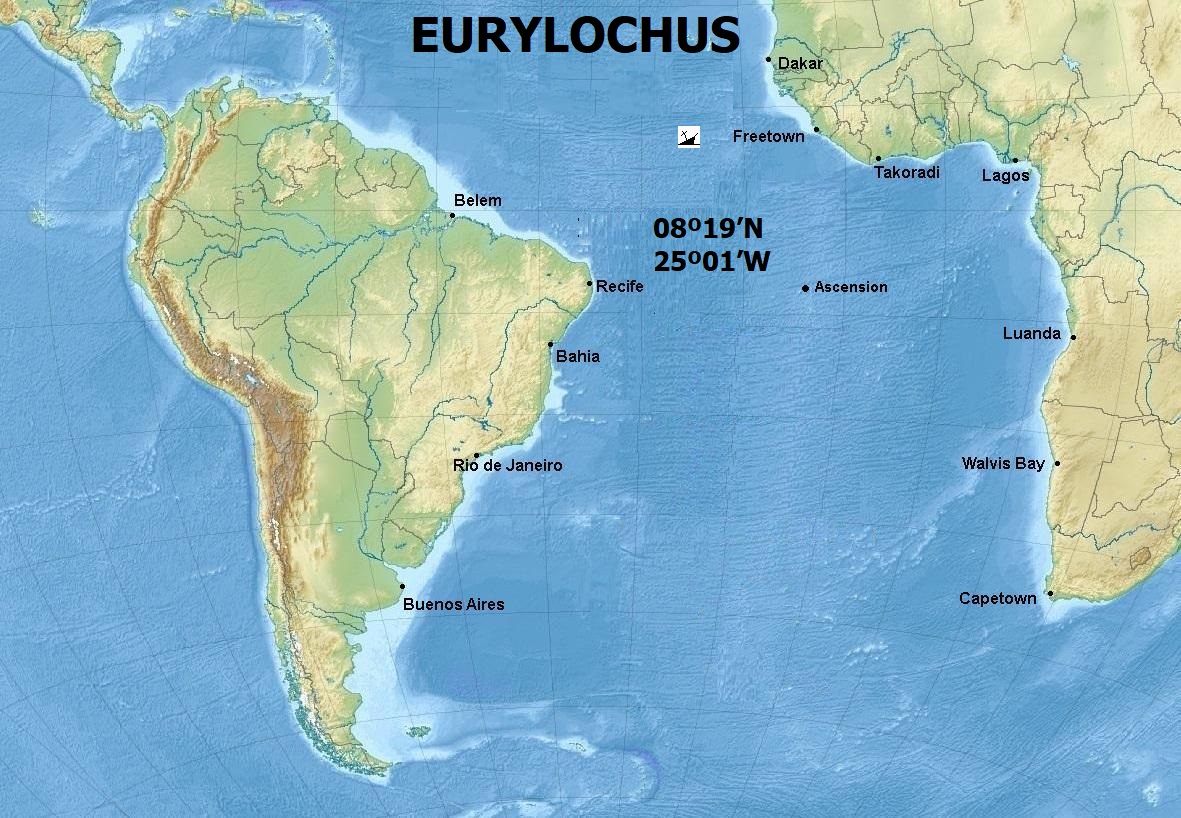 ---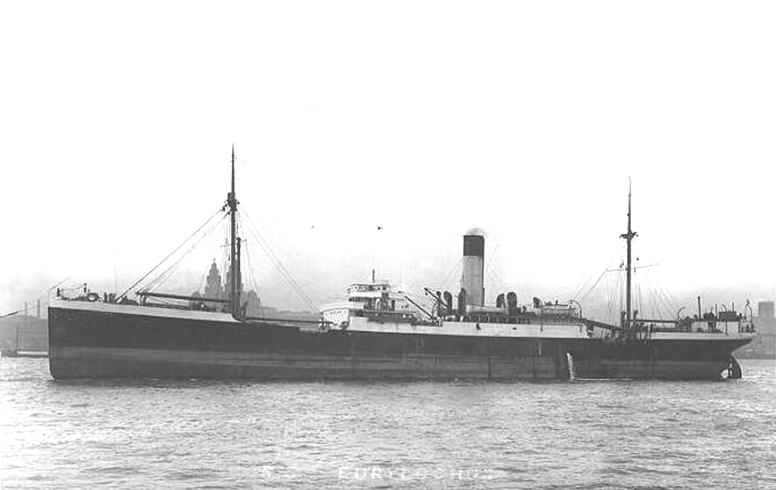 EURYLOCHUS
---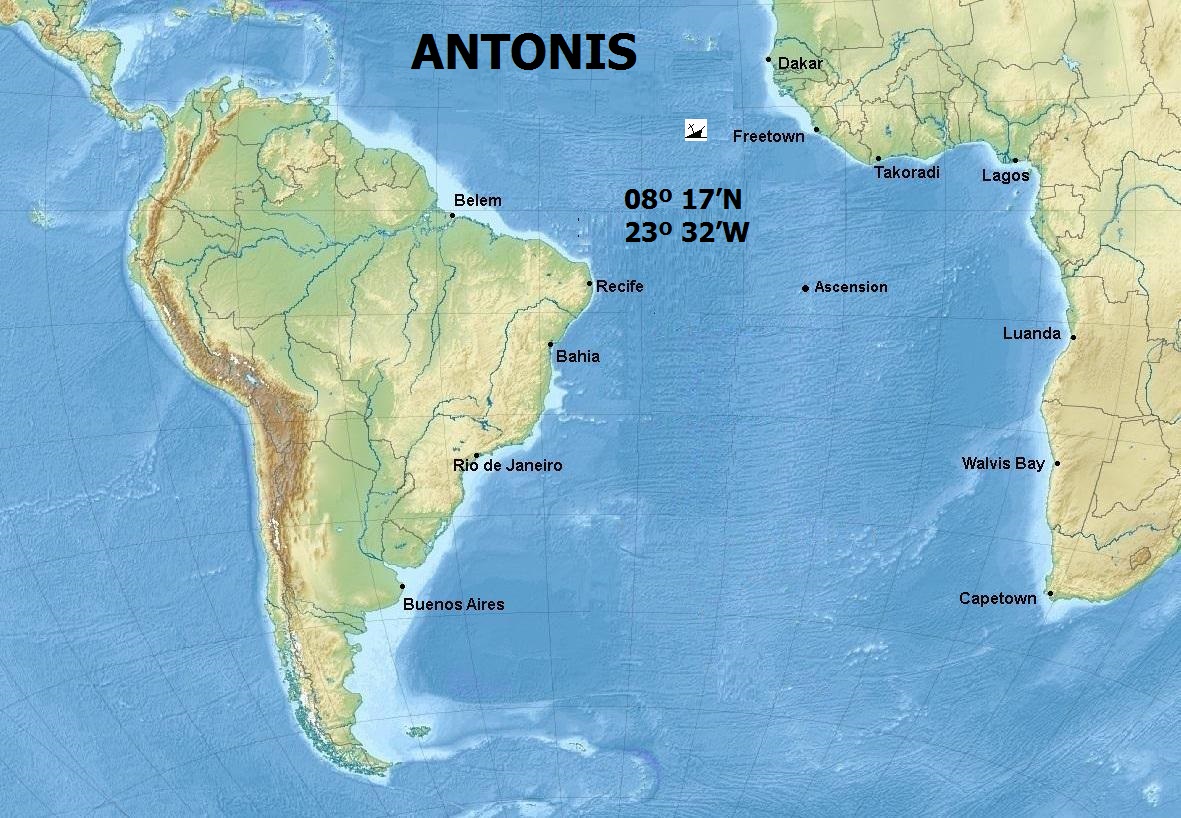 ---

ANTONIS
---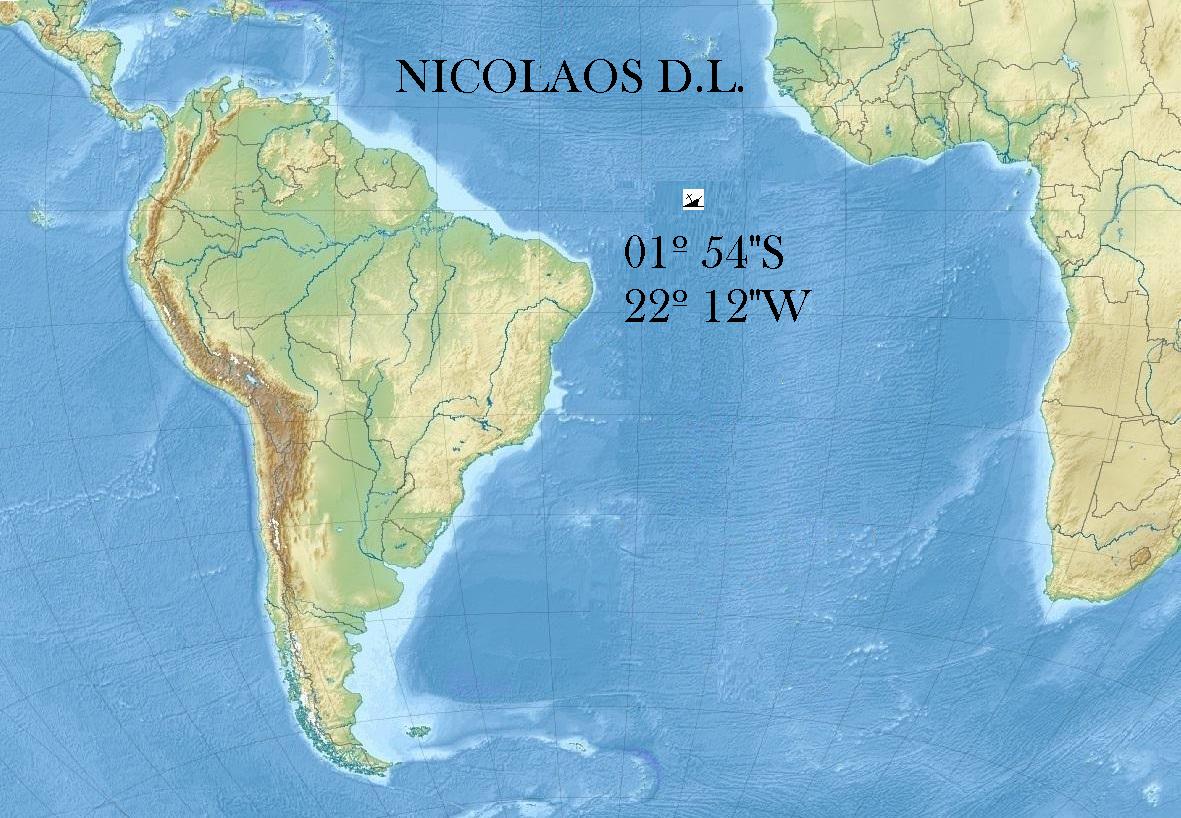 ---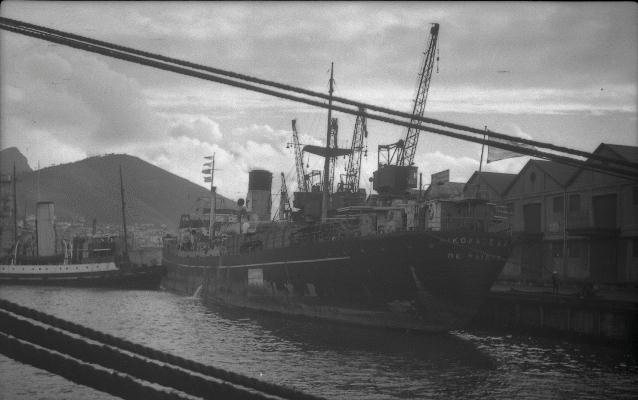 NICOLAOS D L
---
---
Artistic rendition of Kormoran by John Alan Hamilton By IWM
---
---
Detail of one 5,9 inch deck gun of Kormoran seen on April 7 2008 off the coast of Western Australia.
---
OTHER ARTICLES YOU MAY FIND SIMILAR